December 31. 1919
BRUTUS wasn't my dog. I was HIS PERSON.
I sent my old "trail boss" back to Jesus this morning. Most cold winter nights, He is lounging in the living room with either his paw or his body laying across my feet. He keeps them warm. Last night, as some nights, he doesn't want to come inside for whatever reasons, so this morning at 3 a.m. I opened the door to greet him and he wasn't there. I called a few times, and then put on my coat and boots and started looking. I didn't have far to look, he came dragging himself from around the sound side of the house. He couldn't walk on his back legs. He was cold and stiff and my heart hurt just looking at him. I ran to him, and somehow at 70 pounds I was able to get him inside and laid him down on the dining room carpet, which is the warmest room in the house.
I knew this wasn't going to be good. He could barely breath, his gums were blue and all four feet were cold and hard as stone. I covered him up with an old heavy quilt and I laid myself down beside him on the floor, I held his paw in my hand and talked to him over and over. I cried and told him what a great companion he had been for me and I grateful I was that he spent time with me here on this farm, and on this earth. By 9 a.m. I put a call into the Vet and though I knew it was essential for him, and I thought I could keep myself together during the call, when they ask how soon I needed to bring him in, I began crying and explaining to them that he been in a bad way for hours and the sooner would be best for him. They said to bring him as soon as we could get there and they would be ready and come out to our truck. We wouldn't hurt him further by trying to move him several times.
It took three of us to carry him to the truck tucked inside the quilt. I climbed in and the others brought him in from the opposite side so his head was resting on my lap. I never let go of his paw, now and then he would lift his head for a moment and look at me with eyes that weren't sad, they weren't sickly, they looked content. Comfortable, at peace. I kept telling him, He had been there for me so many times, I would not let him down now no matter how much it hurt me. I would not allow him to suffer just because I was too weak to do right by him.
The vets came to the back door of our Super Duty just as they said they would. They examined him and said he was barely hanging on and that his heart was near to stopping on it own. His gums were blue, there was no circulation in his legs, and the color of his eyes told them he had been losing life for a few days. He never seemed any different to me, his appetite has lightened considerably in the last 2 weeks but i thought being 14 years old tha was somewhat normal.
Only once, after we arrived at the Vets office did Brutus pick up his head. It was before they came outside, I climbed out of the truck to let them know we were there, and prepay for the service. When I climbed back in, he lifted his head and crawled about 4 inches to get his head upon my lap as far as he could. I held him while they gave him the shots, and kept myself together until they pronounced him. Then I thanked them for being so kind and sweet to him and us, and as I closed the truck door with my Brutus still laying in my lap, my hand still holding his paw, I couldn't keep from crying. It was a long ride home.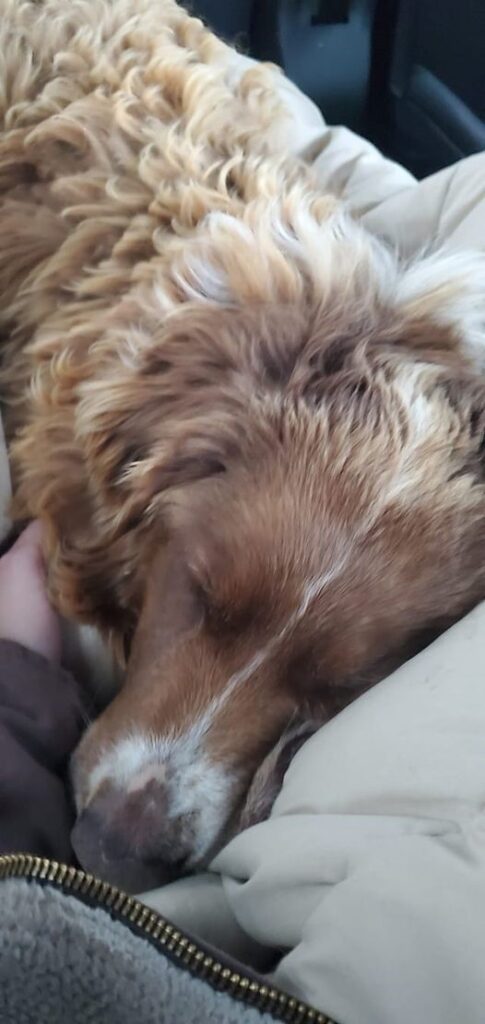 Brutus has been with me for 14 years. Saw me through the dark days of cancer. All the cutting procedures, the appointments, the exploratory surgeries, the two big surgeries. I would come home and he would never leave the deck except to greet company.
He was here when 11 out of our 12 grandchildren were born, and after being the entire hospice team for my Best Friend and beloved Burt, when I finally returned home after almost three weeks, he stayed beside my bed all night. Its the only time he didn't jump all over in excitement or lick my hand. He just stayed close to me, and kept his body touching mine in one way or another. I believe he had a soul, and he must have been able to feel or sense that my spirit was completely broken.
When I fell 10 feet from a ladder, onto a boardwalk, I was knocked unconscious. They had to call an ambulance as I wasn't responding, and my daughter later told me, Brutus never left your side. The paramedics worked around him very kindly.
If you drove in my farm drive way you would know exactly where I was because of where Brutus was. If he was on the porch, I was inside. If he was out by the barn, I was out there somewhere. When he sat between the house and barn, it was because I was inside BUT the grand children were outside. He was our protector.
ANYTIME I was in the field, or on a tractor he would walk along side the tractor, or ride in the combine or in the cab tractor with me for hours. One day while I was repairing a hay cutter, when climbed out from under it, he had jumped up on top the cutter and just waiting for me.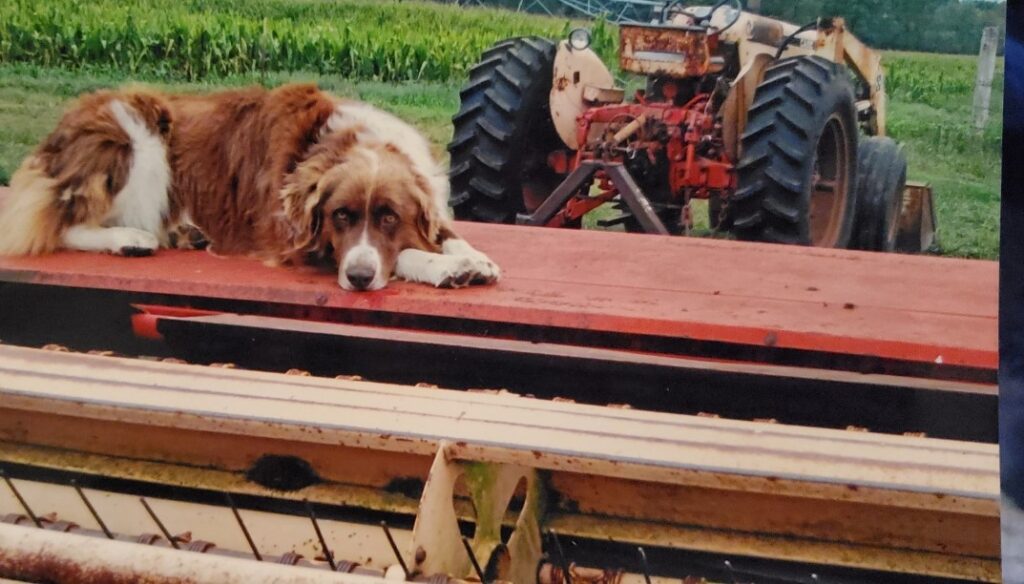 He loved me unconditionally. The few times I was stuck in bed three different times with herniated disks, he waited every day outside the glass door till I walked out to greet him, and His dog house was ALWAYS turned so he could see HIS PEOPLE THROUGH the glass door. NO matter what time of year it was.
I held My Brutus in my arms until we arrived home. I got out of the truck and closed the door to keep his warm, we dug his grave and then gently laid him down. I cried for days behind closed doors, in closets, at night when I was in bed, in the shower, anytime I was alone. He wasn't a person, and I know the difference between losing a canine companion and a person. A huge difference. Still, he lived only to love me, and to be petted by me, and be invited to go wherever I went. I didn't have to earn his love, he never judged me, he just lived to love me and be loved in return.
Tonight his house is empty, his food dishes remained empty, leftovers that he loved from all the grandkids and dinners will now be thrown away. My heart is empty, and I believe it will take a long time for me to get over the loss of him. He was so much a part of my everyday life. Yet, this aging FarmHer is going to find the days ahead a lot lonelier and emptier than normal. I will miss him, his eyes, the way he literally smiled for a treat, the way HE LOOKED AT ME and THE WAY HE LOVED ME.
I want to believe with all my heart that Brutus was met on the other side by Burt this morning, and that he sits beside his chair tonight, with good memories of us, this farm, and his beautiful life as part of our family, and I'd like to imagine that when I leave this earth that God will see fit to let Brutus meet me at the gate. One more time.