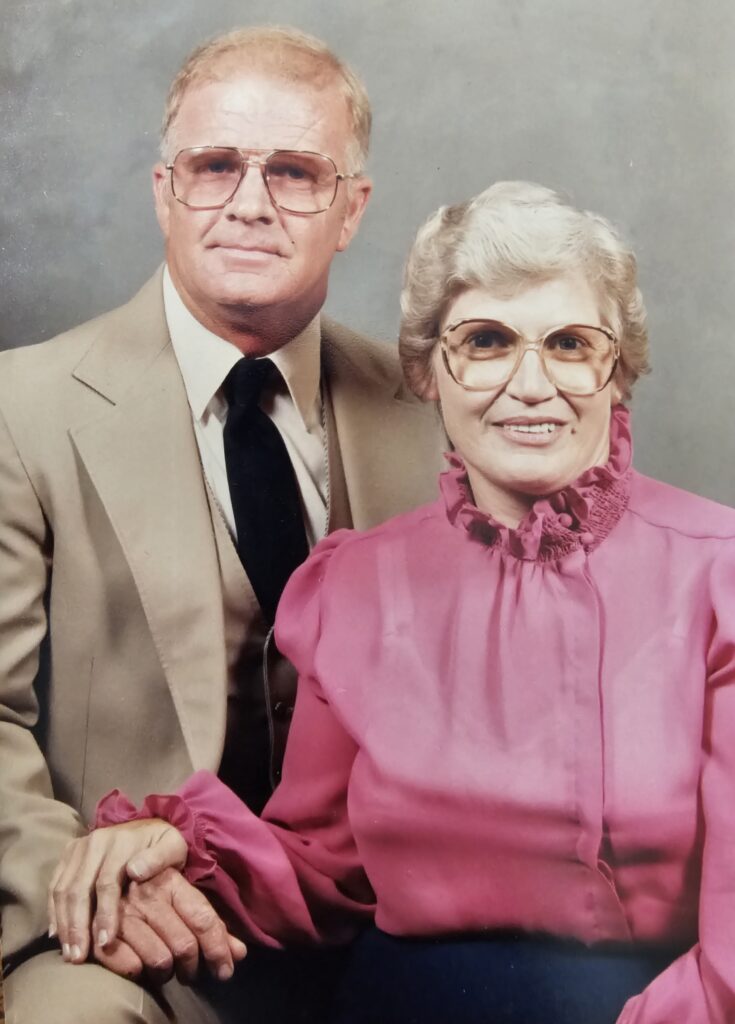 This is a photo of my in-laws that was taken near their 25th wedding anniversary, in November 1986. I met them when I was just barely 17. I worked for the Tri-County Head Start program as a work release through school. Janice was a cake decorator among many other talents she had. On my birthday that year, she showed up at my work and had a sweet little two-layer cake she had made for me. Of course, it never made it to my home, my co-workers devoured it.
On that day, as she was leaving, she hugged me tight and said, "I want you to know whether you and Carl Jr ever stay boyfriend and girlfriend or not, you will always be the daughter I never had but wanted, and I know this in my heart and we both share the same birthmark on our legs." It was the sweetest day for me. Someone really loved me that didn't have to, and she wasn't required to.
As it turned out, I did marry their son in December of 1981, and she made our wedding cake. I was able to help her do it, but it was mostly her while I watched and learned.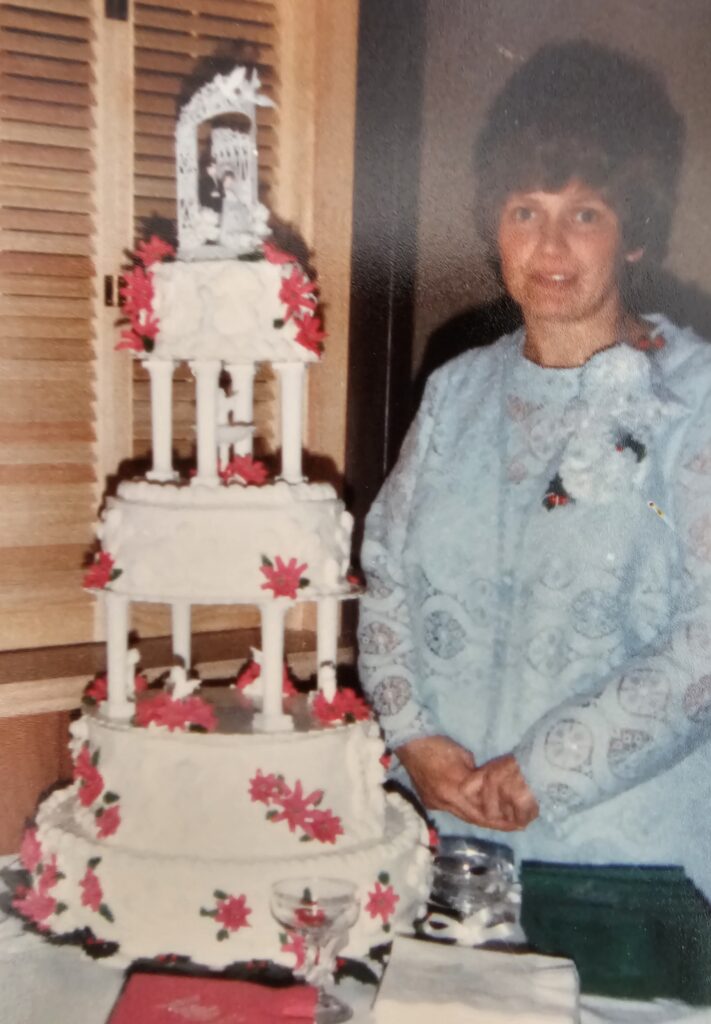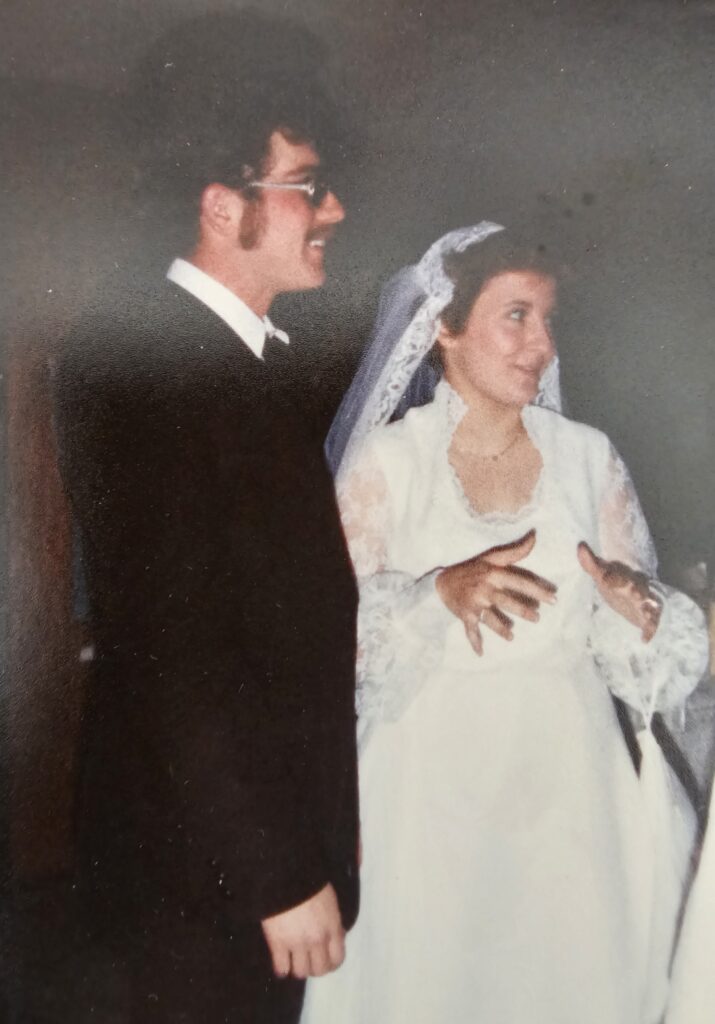 Then come Easter Morning April 03, 1983 we made them grandparents for the very first time. Now, that in itself would have been splendid; however, we had a baby girl, and there had not been a girl born in the Shelby family for two long generations so they thought that we had hung the moon. She came from God but we sure enjoyed some of the notoriety for it.
Mom fell asleep in a hospital on August 28, 2010, and never woke up. She was gone. The loss was staggering. It still is. She had the sweetest, kindest spirit, and I still have one of her last phone messages to me, because she also began by saying, "Hello, Sweetheart, this is mom."
A lot of things have changed since her death thirteen years ago. Life has a tendency to do that, I suppose. A little over three years ago, we moved Carl Sr to our property to stay in a one-bedroom, bath/laundry kitchen living room apartment. His health was slowly declining. There is one thing you need to know, this man loved his television. It was the one hobby/habit he enjoyed. Even when Jr and I were dating, Sr would come home for lunch, which Janice made the day's big meal. Meat, potatoes, cornbread, etc. Sr would come in and sit at the table and from noon to one o'clock no one was supposed to talk to him as he watched the Young and the Restless. It sounds funny today, but he loved that show and followed it to the end.
Once he retired, that was all he still enjoyed doing was watching his television. Twenty-four hours a day, seven days a week. On top of that, he was taking almost 40 prescriptions a day, one of them being oxycontin which really took its toll on him. At one point, his medical doctor told us and him that this was a narcotic and that it would slowly kill him. It would eat up all the muscles in his body and then hit his organs, and he would be left almost paralyzed with a sound mind and a nonworking body. Unfortunately, we saw this come to pass.
This last year has been a hard one for him. I would go get his groceries each week and his scripts which were never ready all at the same time. He would have me call an ambulance for him constantly for any little ache or pain he had. Sometimes, I could talk him out of it; other times I could not. Most of the time, they wouldn't transport him as they could see nothing wrong.
In April of this year, he had a severe UTI infection that spread to his kidneys. He had them all the time without ceasing because his diet consisted of real Mountain Dew, pop-in-the-oven cinnamon rolls and candies or cakes. He was taken by ambulance to a hospital and after four days there, he was resistant to all the antibiotics. They called in a specialist and within a few more days, they released him but only for rehab as he wasn't strong enough to stand on his own and BCBS insurance would not pay for the continued stay. I met him at the nursing home facility in our local hometown, and when I saw made me sick, He was lying on a cot in a little room without a window, barely dressed, just a sheet. It was too sad. I woke him up and told him I brought him clothes and his tablet and other things. He sat up and told me he wanted to go home. He didn't belong here. I walked out and told the nurse he was signing himself out, and then we loaded him up into my Super Duty pickup truck and headed home.
All the way, we both cried. I told him he was going to have to do some serious changes. He needed to eat better, move around the house more and get off his couch. He said he was going to , he was so happy to be out of that home. I called a friend to help get him into the house safely as his legs weren't very strong. When we finally had him back inside his own home, he cried harder, and so did I.
Then in mid-July, he had another spell, we called the ambulance again, and though the paramedics said it was nothing to transport for, I knew the fever and chills meant something was wrong. Sr and I insisted they take him to the hospital. Again, another severe UTI, more antibiotics and then they sent him again to a nursing home rehab home near the hospital. It was over an hour away from us, but he was only supposed to be there a few days for therapy.
For the next several days, he was there but refused to participate in the therapy, and soon, the BCBS called me again and said if he wasn't going to cooperate, he couldn't stay there. I got on the phone and found a place for him to move closer to home, only twelve miles away now. The first week, every time I went to see him, he seemed to be doing fairly well. Soon, he went back to refusing physical therapy and would not eat anything they brought him, unless it was Chocolate milk or a strawberry milkshake. Those he would drink. Again, more chronic UTI, and them a pic line was put into his arm for meds. He ask to come home, and I told him as soon as this round of antibiotics was finished, they said he could come home.
Early one Sunday morning at 1230 a.m., they called to tell me he was spiking a fever again and that in his sleep, he had lost his oxygen hose, and his oxygen was down to 60. We raced over there in the middle of the night and waited by his bedside for two hours, but soon he rallied, and he was back to his old self. That morning he ask me to take him home. They said there was no one there to release him at 3 in the morning. He grabbed my hand as I was leaving and said "You are going to come back and take me home right." With tears in running down my face, I nodded and said "Yes, I will be back in six hours. I will be here by nine a.m, to take you home.
I went back the next morning, and I borrowed my mother's minivan, so he could climb in easier. All the way home, he was looking out the window, and I would ask him over and over again, are you ok. He would say he was fine. Again I called on a friend to help me steady him and get him into his house. It was a little more difficult this time but we made it, and he was so happy to be in his bed and watch his big television.
For the days that followed, things between him and I were different. Different in that he would say thank you to me for getting his drinks, and helping him change his clothes. He would thank me for wiping his face or combing his hair. In the past, he wasn't very appreciative and complained about everything.
Changing my father-in-law of 42 years wasn't on my bucket list of things to do before I checked out of this life, but we made it through together. He said, "we should have thought this through more before I came home." I asked him why, wasn't he happy to be back home. He said, "Yes, I am, but it put a lot more on you". I patted his white t-shirt-covered chest and told him it was alright, we would persevere together and we did, and I made sure to give him as much dignity as I possibly could. I would get him drinks in styrofoam cups like he wanted. We would alternate back and forth between real Coke and real Mountain Dew.
No one expected him to go as fast as he did, but I know that is what he wanted. He kept telling me that he was laying in that rehab center just dying every day and he wanted to do that at home. He wanted to be in his bed, watching his tv anytime he wanted and as loud as he wanted and just fall asleep. His wish was granted.
I gave him a drink that morning, changed him, and asked him how he was doing, he said fine, and wanted more ice in his coke and then I told him I was running to town and I would be right back. The town was only seven miles away. When I came back, I walked in, and noticed the television wasn't playing anything, it was in stand-by mode. I woke him up and asked him if he wanted anything. He wanted another drink, I got him one, ask how he felt, did he have any pain; he shook his head, whispered the word fine, and then turned his head and he was gone. It was so sudden, so hard to believe he was gone.
I believe it is a true gift to be with someone when they pass from this world and step into the next one. I have been the caretaker now for ten people as they made their own departure, in their own way. It is incredibly sad, its painful to watch someone you love slipping away, and its terribly sobbing to sit with a deceased loved one while you wait for a coroner to come. They aren't there; the body is just an empty vessel, but its still the vessel that you touched and took care of, the one that used to laugh or hug you. Now, its just a worn-out glove that has been shook off and left alone. The spirit, soul, and person they were inside is gone.
There are people in our lives that we meet, and some we will come to know and know well. Others, we will say we knew them, but we really never did. As I mentioned, in the last few years, Sr has been a bit difficult. He was grumpy and irritable. He never said thank you for anything I did for him and I couldn't quite please him no matter what I tried to do.
When people pass sometimes we tend to make them into saints. Its a common practice some humans do to endure the loss, i suppose. The truth is, I find it refreshing to be able to say…I knew him as a happy man, when he was cross and not happy at all, and I could see him soft and kind again before he left this troublesome world.
Healing is what we get after we have experienced discomfort and acceptance and we have allowed ourselves to grow. If you haven't been down in the trenches with someone, where you discover what THEY and YOU are made of, then perhaps you didn't know a person did ask they were.
It isn't always a delight to see the real side of someone, they may be abusive verbally to their children or their spouse, sometimes physically abusive, sometimes they are spoiled children that never grew up, sometimes they are unhappy people, and yes, now and then you will see a lesson that is just full of evil or hate. There are many different sides to us all, hopefully, with each new year, with each new experience, we grow into better people.
My father-in-law died just thirteen years and four days after my mother-in-law did. They are the end of a beautiful era, a time when a young teen girl, who felt all alone and empty in a giant world found warmth, love, acceptance, and wanted.
One week to the day, we had a small graveside service per his request, and his only granddaughters, and grandson in-laws and two of his great-grandsons carried him from the hearse to the grave. From the moment we drove up and saw the silver box waiting ….. there were lots of tears. His six pallbearers each grabbed a handle and placed the coffin onto the rollers, where it would be lowered down when we left . It was a heartbreaking moment I believe one day the children will look back on and be glad, and proud that they carried their Grandpa his last few feet on Earth. His last steps.
Carl Sr and Janice had three sons and five grandchildren. Three grandsons, and two grandgirls, and they had fourteen great-grandchildren.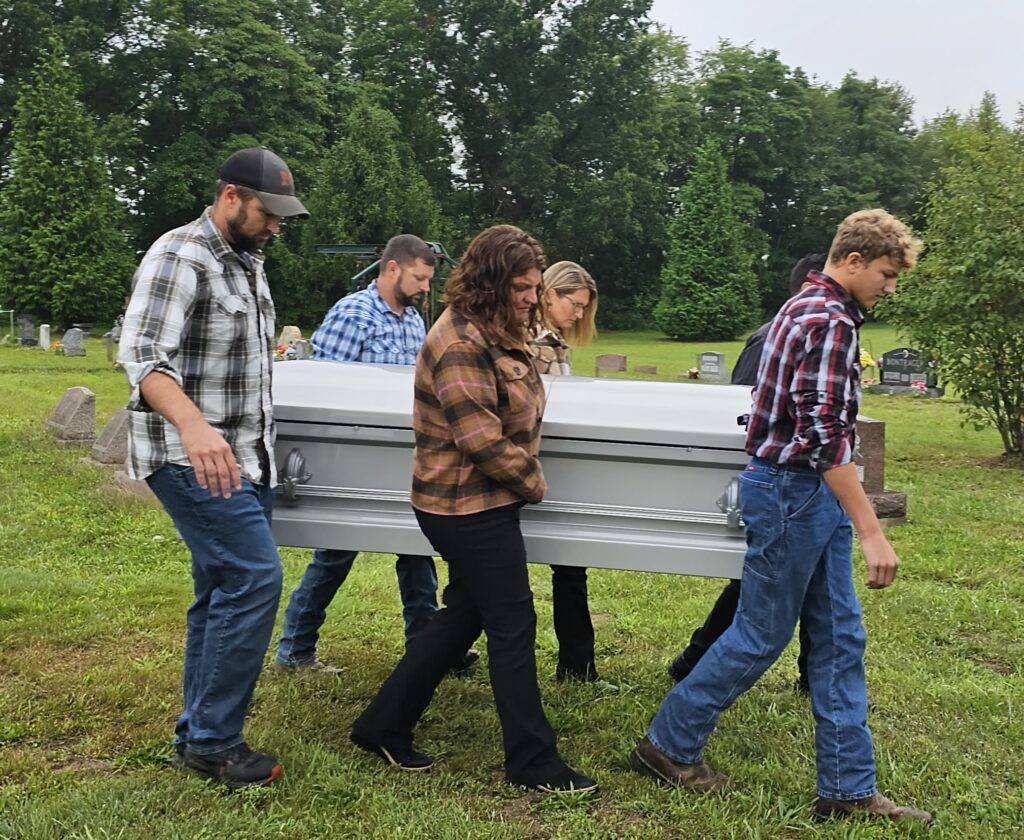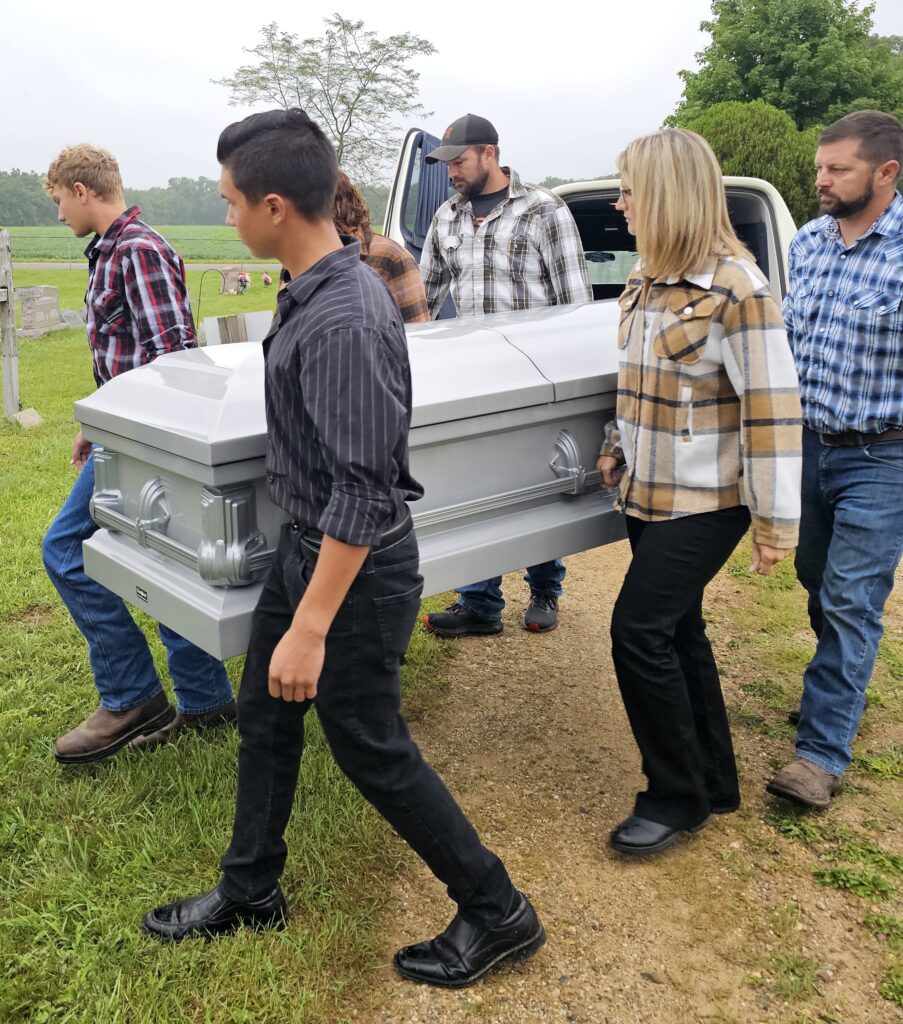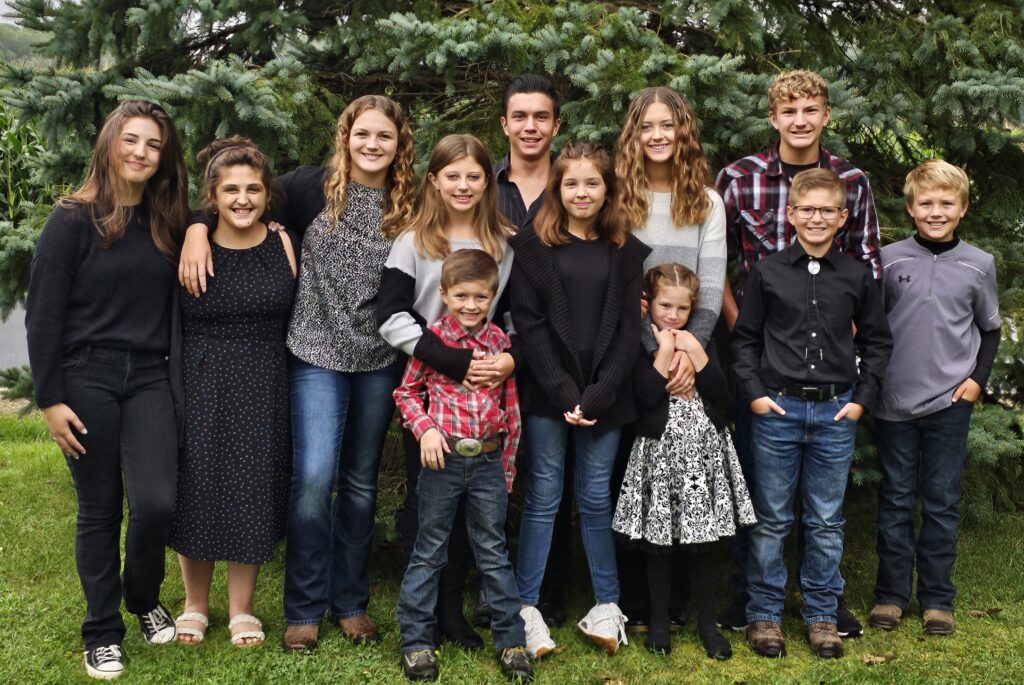 These are OUR twelve Grandchildren….we are BLESSED to have each and every one of them in our lives.
Savannah, Leah, Alaina, Benjamin,Allyson, Matthew, Andrew, Emmalynn, Jacob, Carly, Norah, & Logan,