This Burt and I at His wedding in 1994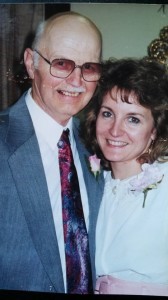 His name was Burton Chester. He was 37 years older than me. He was living in our farming community the day that I was brought home from the hospital. We four kids grew up knowing Burt as the friendly kind neighbor who stopped by the farm and sold seed corn to my Dad (Amcorn) and drank a lot of coffee. I grew to know him as the old white-haired guy.

Alas, as is the story, time changes EVERYTHING.
When I was 18, Burt was 55 at this time. He stopped by our family farmhouse one weekday and ask if my Dad was home. When I told him he would be soon he ran to town. Burt seemed pretty disappointed. "Well."…I remember him saying as he rubbed his chin back and forth with his large hand.." Your dad told me I could stop by and use his welder one day this week. I need to get this part welded and back on the corn picker." I smile and said, "I can hook you the welder for you. "

This act in itself was hilarious. My folks were in the middle of remodeling the kitchen and while they waited for Mom's double wall ovens to come in Dad had hooked up the old stove in the basement so we still had an oven. Mind you we had to go from the kitchen, through the dining room, through the new living room, and down the stairs to the basement to use it. Allow me to just add here that baking cookies were an Olympic workout. I unhooked the stove and pushed the wire up through the basement window to Burt who was standing outside in the driveway to retrieve it. That is all there was to that story. Burt always told me it was then that he saw me as a grown person and not the daughter of that farm couple down the road.

Jump to 1983. My husband and I had just had our first baby. A sweet little girl born on Easter Sunday. What a Blessing. I took that as a special gift from God, not just our baby girl, but that she was born early Easter morn. That next week…on the way home from visiting my parents I was driving past Burt's farm and he was walking on the road. I pulled the old diesel truck over and he opened the door, and I said "Hey Burt, look what the Easter Bunny brought us". Of course, he made over our little bundle as do most polite people, but there was a spark in His eyes as he looked her over. Again, here come that large hand with long overstuffed looking fingers and he so gently reached up to touch her hand and she grabbed ahold of his finger…and he beamed.
I told him he needed to come by my house sometime for coffee whenever he was in my neck of the woods. (Which was just the next town over 8 miles). And visit he did. Burt came to my house at least twice a week for coffee for over twenty-six years! We were like soul mates. Best Friends. We enjoyed so many of the same things, and we could talk for hours and never run out of things to say. And oh what a celebration on a rainy day because that meant two pots of coffee or more. He introduced me to photography and the world always seemed brighter when looking through his lens.

Two more babies were born, and still, Burt was around. He seemed to enjoy our children. There was a time when my Dad had a slipped disc in his back and in the early mornings Burt would come to my old trailer and watch my three babies so I could run down to my dad's and do his morning chores for him. For a man that had never had babies of his own…this was a wild adventure. We laughed about some of those moments over and over again.
In l990 Burt's wife of 44 years passed. She was never happy on the farm, never happy in her marriage and it was no secret that she used alcohol to console her disappointment. There were no children from their marriage. Shortly after her death, Burt asked me if I could help him try to clean up his house a little bit. It had been 44 years of accumulated debris and over 70 cats were living in the house with no litter boxes.

NOTHING had ever been swept or thrown away. It was a two-year process to find the home he once knew. I enjoyed sitting in Burt's home drinking coffee with him and listening to his stories of growing up on that farm. His parents owned it before he did. They bought it in 1936. Burt took over after his father died suddenly in 1944. He was in boot camp at the time and was returned home by the military.

In the Spring of 1994 Burt came to me and said he wanted to sell his 200-acre farm and he did not want any of the bigger farmers to have it. He was from the old school and he loved the older way of doing things. He knew I had no money. We truly were as poor as any church mice you could have ever come across and only GOD KNOWS how we survived. So he told me what he wanted for the place, and offered me a land contract with a dollar down. (Not only is that unheard of…..but it has been and will always be the best gift in my life second only to our babies). Burt was to marry his high school sweetheart and he was moving to Indiana. He was 68 years old. Below: Burt and I in 2004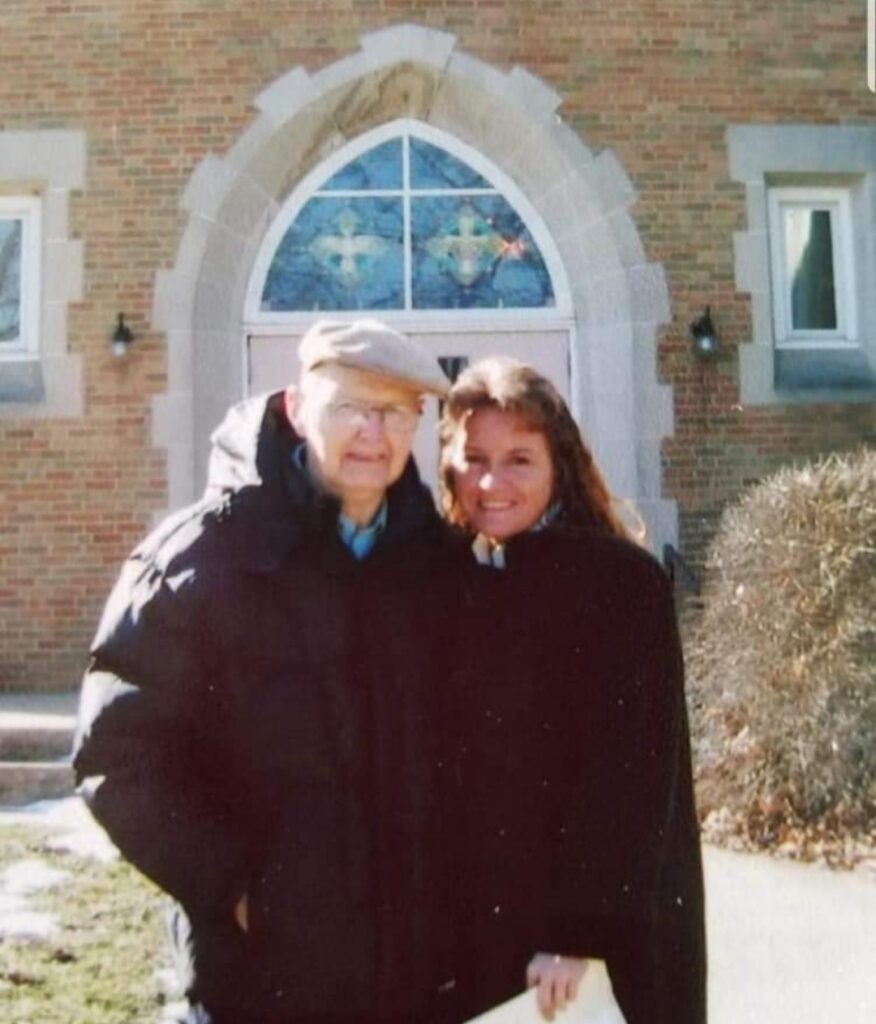 Twenty years have come and gone since then. We took this old ram shackled house and turned it into a happy little farmhouse. It's clean, comfortable and country. When we bought the land and later had it all assessed so we could purchase some equipment they would not even put a value on the house,. It had been neglected for 44 years and over 70 cats were living in this house at one time. When we moved into the house and started to clean the upstairs to live in it, I carried many 5 gal buckets of dried cat manure out of the master bedroom alone. People have NO IDEA how much physical work has gone into this house. We hired nothing done as it was too costly. So I learned to plaster, plumb, remove, repair, replace windows, subfloors, build decks. I put the crops in during the spring and I harvested them in the fall. My husband worked off our farm for a larger farmer. So while his time here was always limited….it was because of him that we were able to keep ours going.
The farm in 1940 (top left) then 1990 (Top Right) . Bottom …the Farm as she stands today!
Then Burt was drinking coffee in my house again, but it used to be his house. He loved it. And he would tell me over and over again that some of the changes took his breath away cause that's how his parents used to do this or that. He kept saying " My parents are so proud of how you have brought life back to this old place…and I bet they shook probably shook their heads in dismay at me"…..
Burt ALWAYS believed in preserving the land and while the house he allowed his wife to control, the land he kept on top of. Nutrients and such.

In 2009, Burt was sick, and after a bit of a gallant fight, and spending time in a nursing home for rehab, he wanted to come home to die. His second wife said she could not do it by herself and did not want to go through all that again as she had with her first husband.
I promised if we could bring him home to pass that I would stay until it was over, and she would never have to administer anything and I would not leave till it was all over. I never left, not even to run to the store. I stayed beside Burt for over two weeks and I was his whole HOSPICE team.

I never dreamed in all the years that we had coffee, the bonding that brought us so close together that I would be the one changing his cath bag, rubbing his tired nothing, boney body with lotion while he cried over and over from the pain. Never had I thought that I would be the one administering his morphine every couple of hours.
The pain of death is an awful one, and the suffering makes no sense to me. I remained always on one side of him and his wife was on the other. He kept calling us his Angels and he would hold both of our hands and hug us both at the same time and kept thanking us both for working together and loving him as we did. His wife was wonderfully precious and I will be forever grateful that she allowed me to be there.
One day, he kept crying and asking us "why won't the Lord just take me, I'm ready to go, I want out of this pain and suffering". Our hearts were so heavy on days like that, and there were a number of them. We tried to explain the Lord was just preparing a place for him at HIS table, on His timetable, not ours. It wasn't much comfort.
I was sitting at the end of his bed, my hand rubbing along his shin and listening to some other men talking that were there to see Burt when I felt the life slipping from his body.

Finally. No more suffering for him. I prepared his body for the Coroner, I put on his clean pajamas, and held his eyes closed till they stayed on their own. I realize that some who read this will not understand that those are the things you have to do when it's finally over A part of my heart died that day. Burt had become my mother, my sister, my brother, my father, my best friend…..I knew that I would be the same after he was gone. There is a part of me that won't ever regrow. I won't be able to regift that part of me to anyone else ever again because I buried it with Burt.
Holding a hand as a loved one slips from this world, is an entire post all on its own. I wouldn't have missed being there with Burt for the world. I wouldn't have missed loving him and sharing his life and when you love and share completely….then you realize that it doesn't just mean when there is an occasional rainstorm…it means even IN DEATH.
This photo is not pretty of my beloved Burt or me. These were some pretty dark days, a lot of nights full of pain and broken hearts, a lot of tears and hugs, little to no sleep, some nights laughter filled the room till the early morning light, and other times the silence was deafening. The waiting was excruciating. For him and us, and given the choice………. I would do it all over again. For Him.

I am a better woman today because He first loved me. He saw something in me and through him, I saw something in myself too, for the first time. I felt worth, I felt like I was ENOUGH, exactly as I was. There were no hoops to just through, no conditions to earn his love.
What a gift he left me with. What a gift this farm has been for me. I will be PAYING on it until I die no doubt, but a gift just the same for us, for our three babies all grown up, and now for our twelve grandbabies. They all gather here, play here, work here and walk around this farm that is still plowed the old-fashioned way. We grow corn without all the sprays and pesticides that bigger farmers use. We and pick ear corn and offload it into corn cribs instead of taking it to a local mill, and it is a huge family weekend when beginning harvest. Everyone is here, eager to help, eager to ride in the gravity wagons or try their hand at driving a vintage combine.
For the last couple of days, I have been out in the fields plowing with my OLIVER (not john deere) tractor and it takes me an entire day to get across a 20-acre field that the BIG BOYS cut through in 30 minutes. I am in an open station when most are all in soundproof cabs. It's the way I like it to be, I can hear things better, I can feel the sun and wind on my face, and get to take in that wonderful combination smell of dirt and diesel which I love, and breath in the fragrant Spring as it comes to life.
TODAY……I WEAR HIS COAT
Burt's old chore coat from 1960. It's way too big on me, and I have to wear a sweatshirt underneath it. It's as antiquated as my tractor, but I treasure it. I wear it because this was his parent's dream, then it was his dream, and it's been my dream for the last 27 years.
And:
I WEAR HIS COAT to feel closer to him somedays, hoping that he can see me in it, and know how much I MISS HIM STILL. How GRATEFUL I am for the chance to live on this land , to work it and follow in his footprints . It's an honor & and privilege to continue his parents dream that began in 1936, A dream passed to him in 1944, and passed on to us in 1994.