I write this morning from the bed side of my great Aunt Carole. She is 79.  She moved here in December from Florida in hopes of building a small apartment on our farm and finish out her life here. She was very excited at the prospect of Spring arriving  as she wanted to sit on the deck and watch the farm animals, play with our 12 grandchildren. Together WE PLANNED that she would cook a meal now and then if I was in the field planting crops late, she was so excited to be surrounded by all of us, and our family chaos.
She talked very candidly with me these last few months about her life. The mistakes she made she couldn't go back and fix, about the loved ones that had written her off, and about the passing of her two sons. When you are dying I believe  that YOUR STORIES MATTER, YOU MATTER,  and MOST THE TIME people want to talk about their past, and they need a listening ear…. not a judge.
She had two small girls with a local man and when that marriage didn't work out, she became a single working mom. Then she met and married a man that she loved, and together they had a son. She said, This man's family lived a few hours away and money was something they had plenty of. They shared custody of the young boy, but every other weekend she was expected to drive the boy 2 hours away to his father's family. Her car was not good or dependable. It left her stranded several times halfway between both places, the courts and the boy's grandparents took this opportunity to file again, stating that Carole wasn't following the custody agreements and there was no excuse acceptable. Another year went by and they took Carole to court and wanted full custody of the boy. A single mom with two small girls and three jobs, she did not have the money to fight or the time to drive two hours south forever hearing. Eventually, they won and she lost custody and all rights to the little boy. She kept his photo in a locket inside her dresser. The boy's father, her now ex-husband kept in contact with Carole and always found a way to send pictures of him in school, as he grew, graduated, and married.
One day, Carole who now lived in Florida where her son was supposed to be living, tracked him down, knocked on his door, and just prayed he would allow her to talk with him and explain. His wife answered the door, and was very kind to Carole. Told her that together she and her son had two children a boy and a girl, and that her husband, Caroles son had been killed in an auto accident five years earlier. It broke Aunt Carole's heart. Again.
Four years later, she met another local man, they fell in love and together they became pregnant. It was a prominent man of the community and immediately severed all connections with Carole.
Without many options, Carole talked over her situation with her mom and older sister and they decided that when the baby was born, Carole would give up the baby to her sister to raise. Carole stayed on the sidelines of that young boys life as he grew into manhood simply as his "Aunt Carole" for 36 years. Upon her older sisters death , the man ask Carole to explain the circumstances that caused her to relinquish him to her sister. She said with a big smile. "We spent all of one day talking and talking and crying, and at the end of the day, He covered my hand with his and said "It's ok MOM, I understand why you did what you did. I forgive you".  And just like that, the two were inseparable until his death  years later.  Everyone deserves forgiveness. And I am thankful she received that gift from him  and that finally, she was able to hear one of her sons call her Mom out loud.
Does that read like a checkered past? Perhaps it does. Back in those days, there was no government help for women alone, no food stamps, no help with rent, utilities or a vehicle to get back and forth to a job. Carole made the choices she felt she had to at the time. Did she have regrets? Yes, she did. She told me so. Do I have regrets in my life, do you? Sure we do. Do we want to be reminded of those mistakes or ridiculed for them for the rest of our lives. No. That's why we fall at the feet of Our KING, and apologize, ask for forgiveness and He gives it. So, we can wake up tomorrow morning and start anew.
In February, she was diagnosed with lung cancer, after she was coughing up blood, SUDDENLY OUR PLANS CHANGED.
For the last 2 weeks I have been her 24 hour hospice care team. We have an RN that comes in once a week to be sure that Aunt Carole is out of pain and checks her over all condition. There is another darling  little gal  that comes in mid week and offers a bath if Aunt Carole  wants one.
My Grandchildren come to visit with her daily and Aunt Carole loves it. Emmalynn plays tic- tac- toe with her when Aunt Carole can't push down hard enough to make her mark on the electronic tablet. Emma just smiles up at her and pushes the button for her . At lunch time Emma was eating her macaroni and cheese and suddenly she asks me if she can help Aunt Carole eat some also. She feds Aunt Carole as if she were feeding her doll. It was too precious not to get a photo of it. Young Emma, reminds me of myself and her momma. Just charge in and do what needs to be done with a soft heart. Logan, and Alaina and Andrew, Matt, Allyson have all stopped in and visited with their Great, Great Aunt Carole. Along with other family members.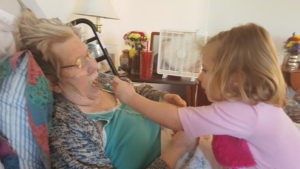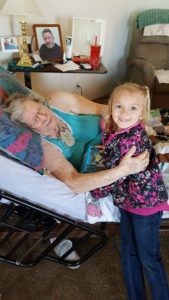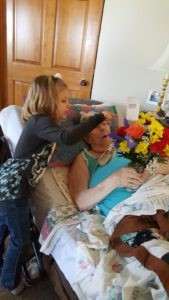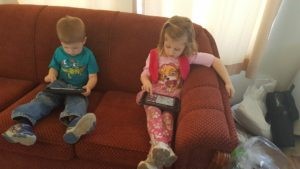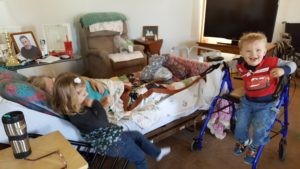 And in the last two weeks Aunt Carole wanted a puppy. I understand completely why, she wanted something fuzzy and live to hold and pet. She hated that she wasn't able to get up and go see all the new farm babies. Pigs, cows, sheep.  One morning she ask if I would bring one of the new sheep into the house and show her. Of course we did. And our miniature poodle Moxie became our mascot. She loved the coloring of the little sheep and so every afternoon I would wonder out into the pen and steal away another baby lamb for Aunt Carole to see and hold.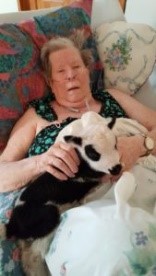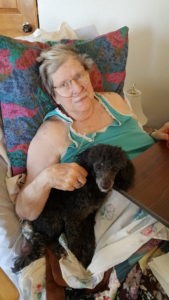 Aunt Carole is my 6th loved one that I have provided hospice care for. It is NOT my career choice, or my calling. I would say it is something that I FALL INTO . My Daughters and girlfriend Cheryl would tell you that I was chosen each time. I only do this for someone that I love, that I am close to, or they ask me themselves to do this for them.
It is a very hard job, and its leveling to me for weeks afterwards. I watch my loved ones from the side of the bed as DEATH like a speeding train comes racing at them . We see it coming, we feel its rumble, , We hear it off in the distance and we KNOW its coming …closer and closer and its going to HIT our loved one and there is no DETOUR. No rescuing them. We sit and watch helplessly.
We both sit for hours, talking about movies, and shows, memories, in between the deafening sound of the oxygen machine, and her labored breathing. We shared many sweet "end of a life" conversations. I watched her daily as she depleted quicker than the human eye or heart could believe. Speaking for her became labored but she insisted on talking and would never just finish the sentence where she lost her breath, in her true PERSERVERING spirit she would start over. Again and Again. She wanted to say the full thought all at once.
Aunt Carole is a fighter from way back. Never intentionally mean. Yet, her life had some pretty high hurdles and it didn't make her bitter and nasty towards others but it gave her an "edginess" that could be taken as mean or crusty. When she ask me if I thought she was a difficult person to be around, or to get along with. She patted my arm and said to be honest. I told her, she wasn't mean or hurtful , but I thought that perhaps her FILTER was plugged sometimes cause she would say things in a way that could offend people unless they really knew her. And then again sometimes….it offended you even when you did know her. lol She was that much like her momma Aena . She spoke straight from the hip.
Four day into our " hospice care" on a Wednesday afternoon , Aunt Carole removed a gold necklace and a gold dome ring that had originally belonged to my grandmother (her sister) and she put them on me. I watched as she removed the ring from her middle finger and slid it onto my middle finger. She said she wanted me to have them . I thanked her through tears and told her that I loved her, that her life mattered and that I would miss her when she wasn't here.
It was the last time she was able to raise both her arms and put them around my neck . She hugged me and said "You know I love you, I don't know what I would have done if you hadn't taken me in. I didn't want to die in a nursing home." We both cried .
Now We talk, we cry, she sleeps. When she wakes in pain, I try to get her medicine down her using applesauce. Its about all she will eat not and just a few bites. One for the pills, and one for a "chaser" she called it. I feel her pain and hurt clear down to the bottom of my feet and I hold her hand until it subsides. She doesn't want to be alone anymore. So each night I push HER hospice lift chair next to her bed, and I crawl into it and I sleep holding onto her forearm that is now lots of loose skin. Each time she wakes, she pats my arm. Neither of us is getting much sleep.
Oddly, before this Aunt Carole wore hearing aids. Yet now her hearing is so acute. And as a care giver the ONE area that I constantly fall short in is in regards to my hands. I have had cold hands and feet due to Reynaud's Disease and I always forget that, so every single time I touched her ..her eyes would widen and she would say "Oh those cold hands of yours". And we would laugh as I apologized for the hundredth time.
We held hands at night and said prayers together just like I did with my children when they were small.  She doesn't want to watch much television now, though before any kind of a detective movie was her pick. Now we visit, she sleeps, and she stares at the ceiling.  She loves to have me read to her. I read her stories I have written, and she begs for more. I jokingly tell her she is like a captive audience, and she cant escape my stories, but she laughs and tells me how much she loves them.
One morning, she put her hand up and said…"Are you going to write about me when I am gone?" I replied.."Not if you don't want me to. She shook her head and said, " I would like you to tell my story, just tell all the truths, as I have told you. Don't sugarcoat, trying to make me sound perfect" I assured her that I wouldn't do that. And she smiled and patted my hand.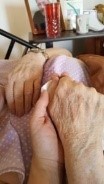 Yesterday afternoon a girlfriend of Aunt Caroles and mine was visiting and we took photos of her parents, her siblings, the love of her life, and photos of her son and ran upstairs to my office. We used my HP printer and blew up their faces into 8 x 10's. Then we tacked them in a collage above her bed while she was sleeping.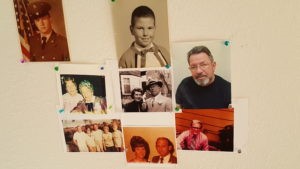 When she awoke she gasped and tears fell down the side of her face. I ask her why she was crying and she pointed to the ceiling and said "I love it". Cheryl and I told her everyone of those people were waiting for her and she was fine to go on to meet with them anytime she was ready. On this day she also wanted to play a game of yatzee with Cheryl and I…..and we did that also.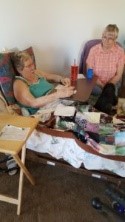 We are nearing her final hours. I can tell by that "far away glaze" in her eyes. She can no longer use her hands to hold anything , it has become impossible for her to swallow without choking badly. I hate to put her through that every 12 hours with medication prescribed by the hospice Dr, so I have called in and requested something different. A rubbing compound for her wrist will be put in the over night mail. The hospice team have been so great. They come and talk with Carole and check on her. When the RN would talk with her and how happy she was to be here in this little bungalow with me the tears would run down her face and Cindy would say "carol why are your crying hon"…and she would whisper "Im so happy to be here. I just kept waiting for it to get done so I could be here.
A few days earlier she told the aid Rachel
"You know its just normal for all kids to get into trouble. We have all done it. But not her kids….(she pointed to me) she hasn't had any trouble with her kids, they are all very nice people,, and all her grand children are just like her children. Most kids run away from sick old people. But her grandchildren just come up to me and hug me …." then she was wore out from that conversation. I remember hurrying to my journal to write it down as I never wanted to forget it.
All the sadness and hurts from this human life will soon be gone for Aunt Carole. I know that only one of us will be crawling out of this BLACK DEATH HOLE and trying to re adjust to normal life again. You wouldn't think that is hard to do. When HER journey is complete you would thing I could just spring back and move forward. Alas, it is not that easy when your heart is connected. I CHOSE to climb down here with my Aunt. I promised her when she got bad I would take care of her and not allow her to die alone, OR in the purple room at the home she was staying at, and I promised NOT to put her into a hospice home or nursing home. I listen tonight to the sounds of eminent death, the rattle in her chest, the heavy breathing, the sound of the oxygen machine and my heart is hurting. I wipe my tears EVERY TIME she stirs and I stand by her bedside and talk with her. She tells me over and over "stop fussing so much" and then she winks.
Wednesday April 20, She was between pain medications, the old pill and the new rubbing compound and she was very aggressive. I understand many people go through this stage just a day or so before they pass. Hopsice team says its completely normal. She was angry, yelling and I can attest that the old lady still has a good right hook. Felt it twice. I cried big tears as I tried to calm her, and when hospice returned my call and told me to go to the SURVIVAL KIT they left in the refrigerator I gave her a dose of meds to calm her.
Thursday April 21…we talked very little today , but I continued my bedside vigil . She last spoke to me about noon . When she woke I said 'Hi, Aunt Carole" and she replied
"Hi Babe"…I ask her if she knew who I was as I was rubbing her wrist with her morphine cream for pain , and she said, " why yes" and she called me by name. I told her that last night she was not too happy and that she didn't know me and that she had a mean right hook, and she started to cry and with a lot of effort said "Im so sorry Babe". I wiped her tears, and kissed her forhead for the hundredth time during this ordeal and said I know it wasn't you……its ok…
Aunt Carole and I holding hands and praying a lot together.
Friday April 22 ………………At 1:18 p.m. After a hard, and painful battle, she has crossed over the otherside. She was freed. Free of this life on Earth. Free of the past mistakes or decisions she had made throughout her life that family members and other JUDGED her so harshly for. Free to go see Stan, the love of her life. (The man she loved for 9 years . His former wife being catholic would not consent to a divorce, she set him free but would not legally release him. ) She kept his photo by her bed and in her purse at all time. She also carried a small tin that was full of chain, that he had left on the dresser the morning he went to work and died of a heart attack. (A funeral she was not able to attend). Today, she would be able to hug her parents, both of her sons, and her Grandma Spencer that she said she saw before she died.
For me, once again I am cleaning up a body, calling the coroner, and waiting for that black Hurst to come .This time it's driving into my own farm yard. What a sobering sigh that was for me. The cornoner, looked at me strangely when i told him that my Aunt was out behind the barn. I walked him through our shop and when I opened the steel entry door and he walked into a new, beautiful one bedroom apartment he let out a long sigh. Then he laughed and said "I have pulled alot of bodies out of alot of strange places in my forty years of being a coroner, and this was starting to make me nervous. WoW…this is fantastic".
Then he complimented me on placing all the photos above her bed on the ceiling. Again, he said in all the years he had been doing this, he never saw that and thought it was great. (Update: Dennis and I became good friends, and sadly just four years later he too died of cancer.)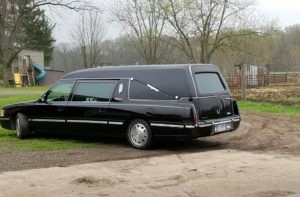 On top of this job, which is not a pleasant one at all when it comes to cleaning and changing an adult human. Watching their bodies run rapid with fire fever and infections. Watching the skin start to loose its shine and moisture and begin to peel, and death has its own distincitive odor that you never forget. All of these things , the decaying process of the human body are all a part of the last few weeks or dasy of life. I met these ugly villians head on and wanted to, for Aunt Caroles sake. I wanted to be there for her.
AFTER her death, as she requested I contacted her immediate family members that she said had disowned her years ago. THEN I GOT HIT, hard with harsh words and judgements, ridicule, questions of why they weren't called…..and they went so far as to request an autopsy convincing themselves that there was foul play involved in her death. We understood, then …the stories that Aunt Carole had told us were accurate. Thank God for Hospice, who were there to stand at the ready in my defense. All medications were accounted for, infact there was more left over than should have been, they were in and out of here on a regular basis talking with Carole and I and checking her vitals and explaining to her and I about how much time she had left. And they reminded us both that since Carole signed herself in , I was in no way responsible for , and per her request no information would be given to her family members before or after her death.
I still cant turn the handle of that apartment door now, without expecting to hear the oxygen tank, hear the tv or Aunt Carole saying "Good Morning". It is my belief that we all DERSERVE TO HAVE A DIGNIFIED EXIT from this world, and I believe each and every one of us on this planet deserve to be forgiven for things we did or did not intentionally do. Forgiveness heals. It is not so much a gift for the offender but more of a gift for the one who graciously offers forgiveness with a smile and says its ok..none of us are perfect. None of us are going to escape this crazy world without sinning. GOD IS OUR ONLY RIGHTFUL JUDGE, and He judges us according to our knowledge at the time. AND…..He grants forgiveness the first time we ask for it.
HE ALWAYS FORGIVES HIS CHILDREN AND RECEIVES US ALL WITH OPEN ARMS.
Rest in Peace Aunt Carole. YOU MATTERED TO ME, YOU MATTER TO ALL OF US WHO CARED TO KNOW YOU WITHOUT JUDGEMENT.
October 9 1936 – April 22, 2016