Things here at the farm have gotten rather busy. Crowded…. but a sweet comfortable crowded might be a better use of the word.
It all began in March, Our youngest Daughter, a professional gal with a wonderful hubby and four children decided they would like to build their own home. In 8 years of marriage, they have purchased two homes, renovated them, and then another baby came into the picture and they really wanted some more space and since Hubby is a builder it sounds like a perfect solution. We had a patch of woods that we hadn't done anything within 25 years so we offered it for them to build on.
They put their home on the market and it literally sold in two days. They packed all their belongings, bought a semi-box "cargo trailer" had it delivered here to our farm from Chicago and they slowly moved everything from their home to that cargo trailer. In a neat and orderly fashion of course, as our youngest daughter and her hubby a slightly OCD, as are their children.
They have been extremely busy since they moved in here with us between working their jobs, raising their kids, and planning and drawing and calculating house plans. They have estimated the cost and projected when the home will be complete. This is of course NOT mentioning all the work that goes into the mortgage end of a new build. Permits, fees, etc. It's so ridiculous. Why a person cannot build their own home anymore without someone governing their every move is beyond my understanding. We have owned our farm, and the ground, and yet the govt still can dictate what we do with it, when and for what purpose. Not to mention the township rules and regulations that are most of the time motioned and carried without the knowledge of half the township taxpayers. You cannot obtain a township book of rules nor can you get a clear concise answer as to who sits on the board.
Then in May, Our oldest Daughter, her wonderful hubby and their three children were here for a typical Sunday visit at the farm. When we discovered that the neighbor down the road was selling his 80-acre farm, house, barn, etc. She inquired as to what he was asking and of course, in this day and age you can barely afford to live , never mind being able to afford 80 at almost 400K. However, the farmer was enticed with the idea of selling the kids his homestead and 25 acres to start and down the road perhaps the option for more ground would be available. This farm is exactly 4/10 of a mile due north of the farm she was raised on…our farm… so everyone was beyond excited.
Plans began immediately for minor repairs to their current home and it was also placed on the market. Within 10 days, their home sold, and now their family was beginning the process of packing their home and moving within 30 days.
The farmer was adamant that they have their financing in order and are ready to make the purchase by mid-June. And they were. Apparently however when you live somewhere for over 41 years moving out when you and your spouse are in your early 70's isn't as simple as the previous owner thought it would be.
There were a few more glitches in the setup and suddenly it was time for our Oldest Daughter and her Hubby and kids to be OUT of their home. They had nowhere to move their things or themselves as they had been planning all this time to go straight from their beautiful, 3 bedrooms, 2 baths, fairly new home into a very neglected farmhouse, and live in it as they remodeled. Something a million farm families have done through the years.
They understood the cleanup process and renovations could be extensive, but they were willing and ready to jump in with both feet. As life happens, things have slowed to a crawl, the previous owner has drug his feet regarding his end of appointments, appraisals, etc . and decisions had to be made rather quickly. So…..
I cleaned everything out of our
two-car attached garage and Daughter and Hubby have moved all their worldly possessions into it. It is a tight fit, to say the least, but we made it happen. Everything they own is in there, and they tried to arrange things so they could keep their freezer plugged in and their dressers lining the outside edge of the garage so they can get to their clothes as they need them. After all it's ONLY FOR 2 WEEKS.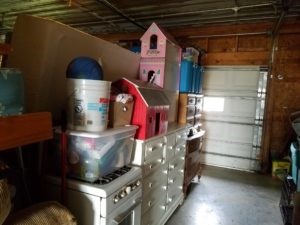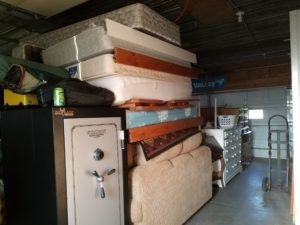 It's been a wonderfully loud, chaotic experience. Seven of our 12 Grandchildren are here for breakfast, lunch, and dinner every day, as it is summer and school hasn't begun yet. They all play together, in the 2-story playhouse we built, they all fight together, and they all beg to have sleepovers with each other though they live on the same piece of property for now. You got to love how a child's mind works.
Everyone has worked together and worked tirelessly to make the renovations happen quickly so they can move into their dream home. Unfortunately, their dream home has been hiding quite a few things behind its walls, under its floors etc, so this once neglected home, had now been basically torn down to the studs and built back up INCLUDING replacing some of the studs themselves. We have broken and removed several layers of a kitchen floor which included 4 inches of concrete poured over 3 layers of wood flooring. The main box plates of the home have been cut out and replaced in some sections. Windows have been replaced, entire walls have been torn off the exterior of the house, re-built and replaced. It has been a huge undertaking but the kids have continued to plug away at it, morning, and night, after work, on weekends, in the rain and heat and now the winter snows. It has been just over 7.5 months, and it looks as though their move-in date has arrived.
In time, everyone will laugh about all this major renovation. They will "REMEMBER WHEN" they did this or that to their home. Our oldest daughter will fill photo albums just as I did 24 years ago with tons of before and after pictures, and one day her own children will see those pictures, and barely recall the moments. Our own three children were 10, 7, and 6, when we bought our farm, and though they had to endure all the renovation process here their entire lives, it's surprising how much of it they don't recall. They were young kids, turned loose on-farm, and spent their days exploring, creating, and entertaining themselves. And that is how it's supposed to be.
Our youngest daughter Cate will fill albums full of the very beginning of their stick-built home from the first cement work to the final piece of metal on the roof.
History does repeat itself in the most comical ways, and the circle of life continues to spin.
For almost 8 months we lived with dressers in every room, extra dogs, a cat, and three young kids about our feet. We all endured mountains of laundry and dishes and endured everything from screams of delight to screams of frustration. All in all, we know this is probably the LAST TIME BOTH of our girls will be "home" at the SAME TIME . Our oldest daughter will be living 4/10 of a mile north of us and our youngest daughter will be living south of us just across the cornfield. All that is left to do, if eventually talk our Son, his wife and 5 children into moving into our little township.
This is LIKE A family township. Just due north about 3 miles is My Fathers' farm, which his parents bought in 1946 when my Dad was ten years old. They paid it off in 1948, (after the Great Depression and losing their first home), and literally the week they paid off the farm, my Grandfather had a stroke and died at home. The next day was to begin his 2 weeks paid vacation. My Grandparents were only married 25 years and there was still my dad age 10, his brother Fred age 6, and sister Kathleen age 4 to raise.
Dad has lived on that same farm for 70 years now. It is the same farm that he also raised my brothers and I on. The family farm sits as far North as the road goes.
An interesting side note: My three brothers and myself live on this same stretch of road, in the same township that we were all raised in. We are scattered up and down the same road all on the south end of Dad. It Wasn't planned that way, two of us bought farms on this road and two bought property from our Dad to build on. It's how God planned it to be.
Today, history repeats itself, as the FOURTH generations of our family reside here also. Two of our own three grown children live on this same stretch of road. Who knows, perhaps one day, our son will find his way to this same stretch of road, and perhaps not. It is well with my soul, either way, that God has pre-designed it to be. We are BLESSED, far beyond what we could have earned or deserved, and I am grateful and thankful to the Lord above.
November 29, 2017 shs