August 2021
I spent six days at our local county fair following our Grandchildren around. Most days I was there to watch our granddaughters compete with their horses, but most of the time I was walking around with the other grandchildren when the horse competitions were going on. They take all day long in order for everyone to compete in all the events that they want to. The grandsons especially grow weary of standing around hour after hour so its nice to just go for a walk, go find a candy bar, or our all-time favorite a large hot buttered pretzel.
The days can be long and exhausting, not to mention the heat can be relentless. Our daughter and her husband parked their vintage camper there this year, so in between shows we were all able to go back to their lot and share in lunch and just relax and visit for a moment.
The grandgirls took many ribbons and had a great time. I saw people I hadn't seen since the covid 19 mess began, and I was blessed to make a new friend Anna. A really nice woman, that I met during a horse judging and we connected right away.
A few days before the fair was over, I noticed that our Grandson Matthew was wearing a blue rubberized bracelet that said: "IN GOD WE TRUST" . Most of the grandchildren were wearing one, so I ask Matt where he got it. He told me they were in the commercial building and he could show me exactly where they were. So with his mom's permission, we set off on a quick little scavenger hunt.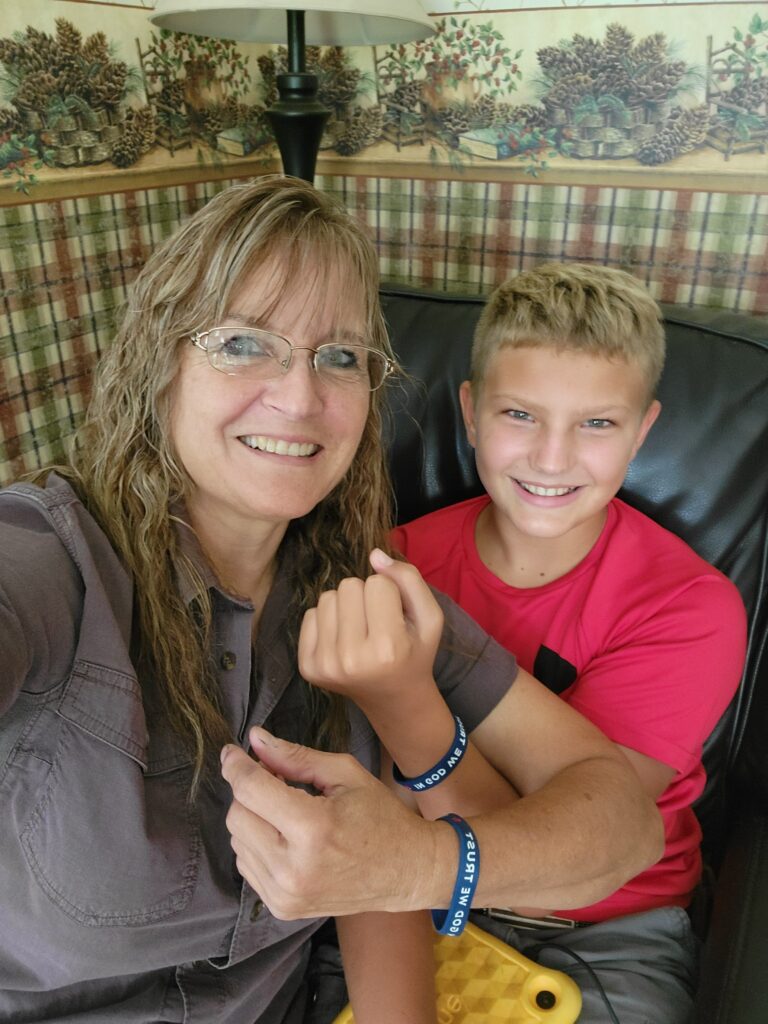 We walked through the building twice before Matt finally said "Omie, I don't see them anymore, but they were over here I know it, and then he saw a woman sitting behind a church display table and she was also wearing one of the bracelets. He walked over to her and very politely ask if this was the booth that was giving away the bracelets like the one he had on his arm. She said they were, but that they didn't have anymore.
Matt turned to me and said "Sorry Omie". I told him it was perfectly fine and before we could walk away the woman took her bracelet off and handed it to Matt and said: " Here take mine". He thanked her but declined her offer and said he already had one, he was looking for one for Omie. I then interjected that Omie was german for Grandma.
The woman smiled and said she knew that already, and kept insisting that we take the bracelet that her husband had a couple at home. We didn't touch the bracelet. It sat on the table while she began to ask Matt where he lived, what school he went to, and when I mentioned that we lived in Volinia township her face lit up. She told us that she was raised in Volinia and that her siblings and she still own 120 acres that belonged to their parents and they still rent the ground out. I was reminded again of what a small world we actually live in.
The two of us women talked for probably 15 minutes connecting all the dots of who she was, who her family members were, and where they lived back in the day. She was so excited to know that Matts's family lived in a home she had played in and visited in all the years she grew up. She told us that she has driven by it several times now and she loved seeing it look so beautiful, and cared for, and she was thrilled to meet such a polite young man.
She of course knew the man that I had bought my farm from twenty-seven years ago, most everyone knew Burt. If you paid your taxes here or stopped by for a moment to visit. You were never invited inside. Sadly, it was a very neglected home, one you would not soon forget. Again, this woman was so incredibly generous with her compliments and praises of how far our home had come, and how beautiful she thought it was.
Matt, was a perfect gentleman while we stood there and talked. He was listening and every now and then he would add a word or two, and finally, I felt the preteen had stood long enough and so we said goodbye. We weren't two steps away when she hollered "Please, take this bracelet I would love for you to have it. I think it's so sweet that your Grandson was trying to find you one. Take this one for the memory, remember that we both lived in the same neighborhood years apart."
We accepted her offer and thanked her one more time.
This bracelet isn't anything to really write about, but the story behind it is precious to me. Matthew was the first grandchildren that I began babysitting for full time after I left the corporate world. I felt pretty depressed for multiple reasons. That little boy brought me back to life, he gave me something GOOD to pour myself into, he gave me my heart back and made me smile all the time. I will admit today, that I held him a lot. I mean a lot. When he napped he was in my arms, when he was awake he was in my arms. I watched cartoons with him and watch westerns while he slept in my arms. Matt wasn't a social butterfly. He was happiest here with me at home and didn't care for stores, or strangers. He is still that way today, at almost 12 years old.
Matthew is the closest grandchild to being near my birthday. He is our Halloween baby, and my birthday is just seven days later. ( I always joke with my 12 grand blessings that it seemed like at least one of them could have been born in my month. Especially you Matthew, one more day and we would have shared November….lol )
For my birthday the following year, his mom bought me a beautiful emerald necklace with small matching earrings and wrote the card from Matthew to Omie. "He" thanked me for watching him and loving him. I placed that jewelry in a ziplock bag along with the note and wrote Matts's name on it. One day I hope to give it to his wife or perhaps a daughter.
Time is slipping away, I will be 59 in a few months, and I have had a wonderful life, been blessed more than I deserved to be, and I am so thankful that God allowed me to watch my children grow and see what they would become. To be here and witness the birth of 12 grandchildren, to visit with them so often, to be a part of their lives in the smallest details, and see how our own children have grown into the great honest, hardworking people they are. They make me proud and I'm so grateful to God for allowing me to be present for it all.