Recently, my old Gehl 95 feed grinder literally fell apart. This grinder was in less than poor shape when we were forced to buy it, four years ago after a barn fire here on our farmstead that destroyed our 4 bay barn, all of our tractors, hay equipment, corn planters, bean drill, two mold board plows, a tandem disc, a newer ponderosa stock trailer, parade-ready Farmall M, the list is endless. Of course the one in the fire, we had just purchased from some older gentlemen, and it was in pristine condition. The old relic that finally gave up had been causing me nothing but pure grief for the last several months. The loading auger that takes in the ear of corn and feeds it to the cutting knives moved so slow and got so choked up, that I had to hand-feed every ear of corn that went up the auger. Grinding two tons of feed that way, was a long daunting task.
Last Sunday, while grinding corn, it finally broke apart and spit parts and pieces everywhere. For the first two days, I would climb down into the grinder bin and fill buckets of feed for the cattle and calves and hand them down to someone else. The bin is only 12 feet deep, and besides being a tad claustrophobic, I cannot climb out to the round tower prison without someone having to pull me out or lower a ladder through the 16-inch opening.
After a few days of retrieving feed that way, my son-in-law, ask me why I didn't cut a hole in the side of the grinder . Ingenious. The heap of metal had already won an all-expenses paid trip to the scrap yard, so what difference was it going to make now? Well, for another two days I dug the ground feed out of the cone-shaped bottom of the grinder and scratched up both my arms and hands trying to get it all out to feed. I look as though I have fought with several cats at once.
The "panic hunt" commenced trying to find another grinder as soon as possible. There are two rules of thumb here when dealing with the notion of a new piece of equipment on a farm, small like mine. One, it isn't considered a good deal unless it is at least two hours from home, and two, pay close attention to ads on the internet or in papers/magazines etc. Some sellers can be sneaky and NOT post pictures of all sides of the unit, and you make the drive for nothing.
I finally found a grinder we could afford and a friend, and I began our journey south about two hours from my farm. It was a beautiful October morning. Once we arrived at the dealer's, we located the few feed grinders they had on their lot and began assessing which one would be the best one for me. The one I went to look at was very decent on ONE SIDE, the other three sides were mangled and broken, rusted, and look like they had dented it with a wrecking ball. No Jack, a few bearings missing. I was disappointed, to say the least.
Two other grinders were available, which were more money than I wanted to afford. Within another half hour, I decided on a New Holland 355 brand feed grinder, and we ask if someone there could hook a tractor up to the PTO (Power take-off), so we could see it run. The man they sent out to help us was slower than a sloth. Soon the grinder was running, but the auger inside the grinding bin was not. A few moments later, we discovered a pin had been sheered. We ask the man if he could find another one in their shop somewhere. Forty minutes later, he returns with nothing that we could use. At this point, we suggested they run down to their local hardware store and find a bolt or sheer pin, and we would grab a coffee somewhere, return and give the machine one more try before we took our trailer and headed home without a grinder. It was already 12:30 p.m.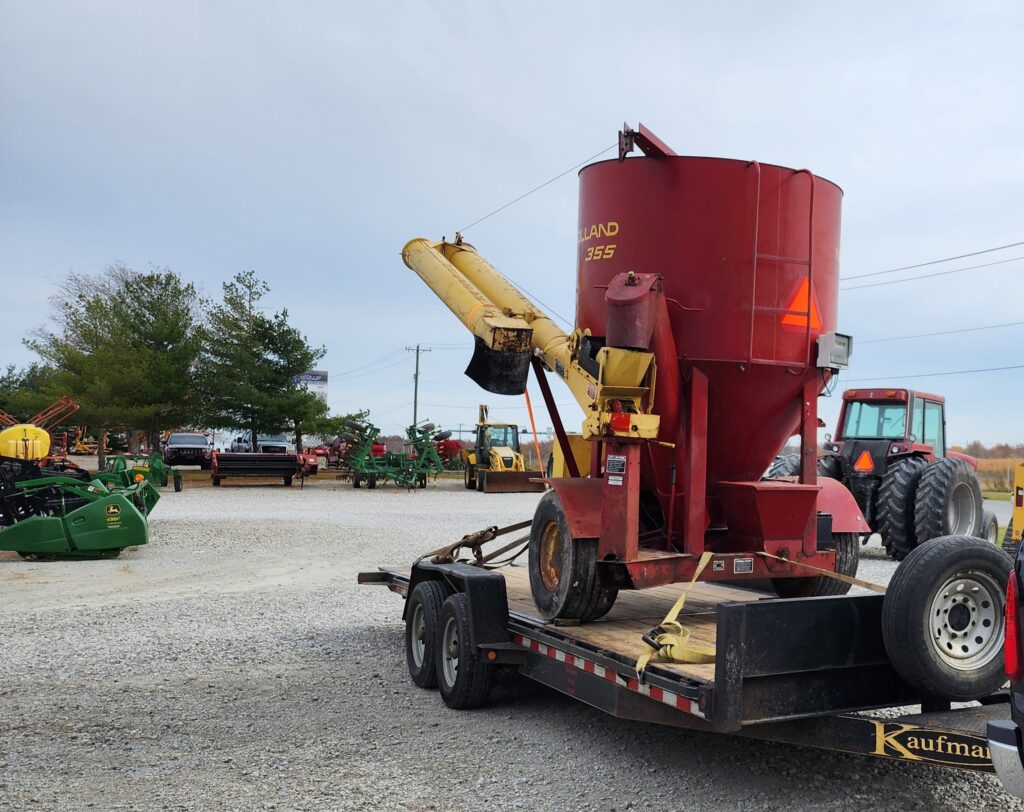 We drove about 8 miles into a town called, Wabash Indiana. This small vintage town is riddled with boutiques, antiques, bookstores, make-and-take art studios, a movie theater, and several other quaint shops. The whole town sits on a slop. The main street is somewhat level, but from there, the buildings go up, up, up, at a steep climb. The town had a warm country charm about it the minute we started walking on the sidewalks. (there isn't a place to park a truck and trailer anywhere in town, so we parked several blocks away and walked). It was a Nice walk.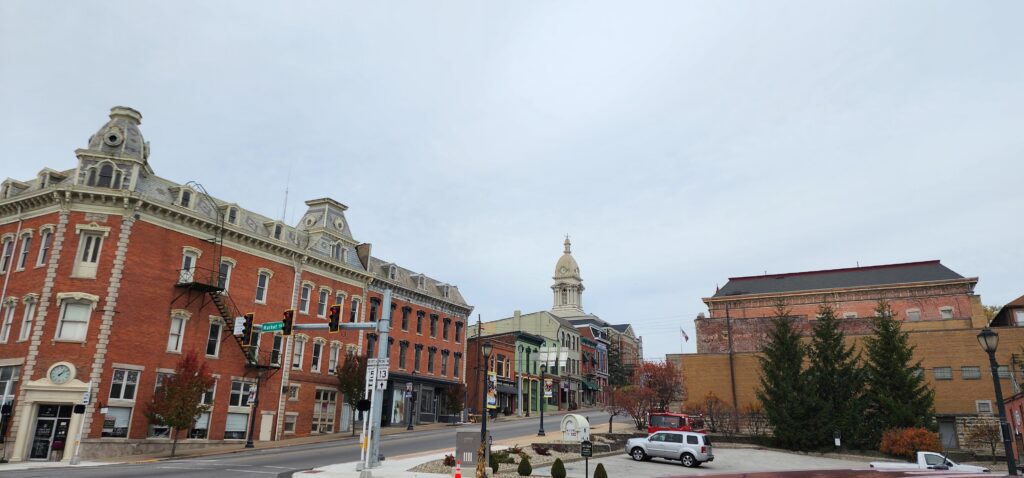 We stumbled upon a small coffee shop on 205 South, Miami street known as Modoc's. We stepped inside and stepped back in time. The room held about 5 tables with a few chairs, vintage coffee cans lined some shelves, and held candy bars, gum, and several different varieties of homemade chocolates. While most of the town is closed on Mondays, Modocs are open and offer one special soup and sandwich of the day. We passed on the soup but decided to share a sandwich.
Throughout the store, you could see Circus type photos that had been enlarged to 3 or 4 feet tall. A few Ringling Brothers Barnum and Bailey circus advertisements were hanging on the walls, and silhouettes of elephants had been chiseled in the plaster up near the old tin ceiling.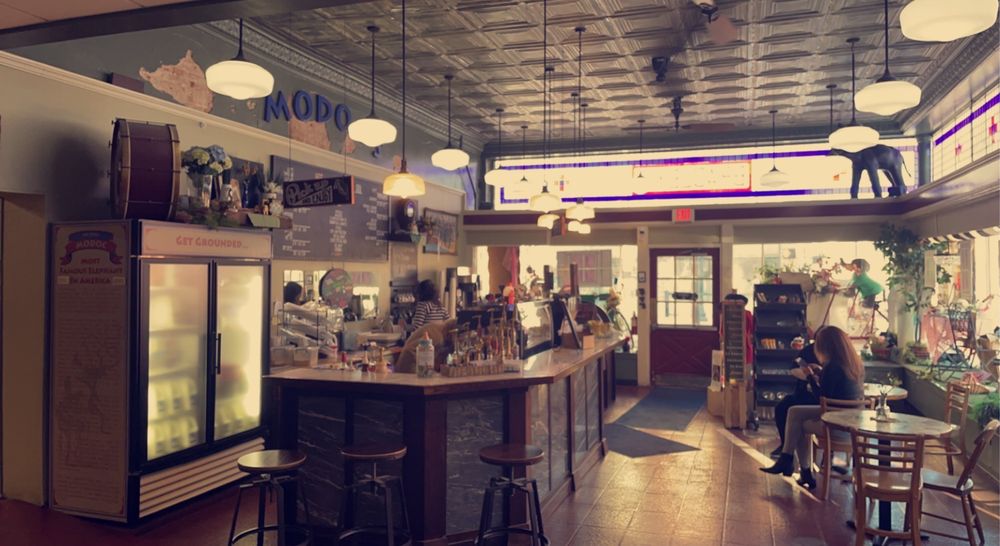 In a room adjacent to the coffee store, was a reading nook over in the far left corner, made up, especially for children to read and relax. There were several pieces of vintage leather furniture for adults to sit and read, and a couple more tables if you just wanted to work using their wifi.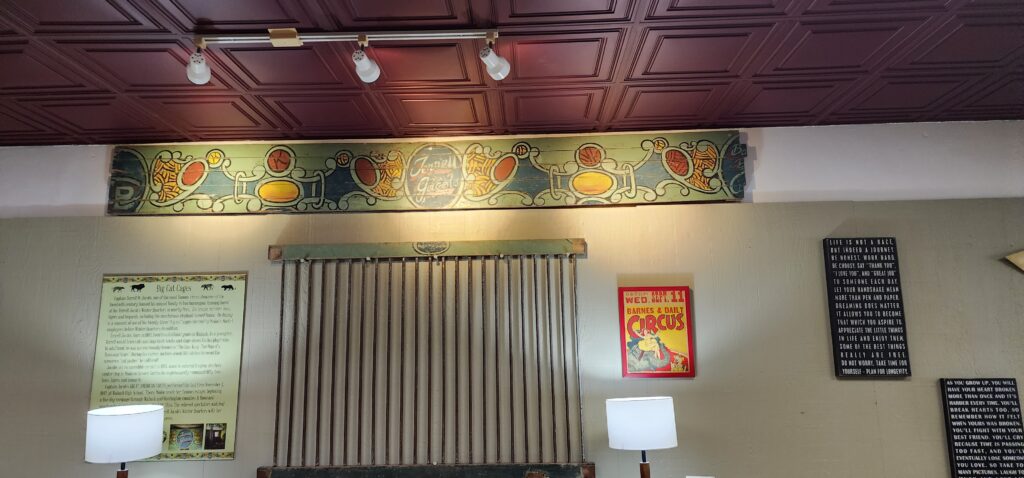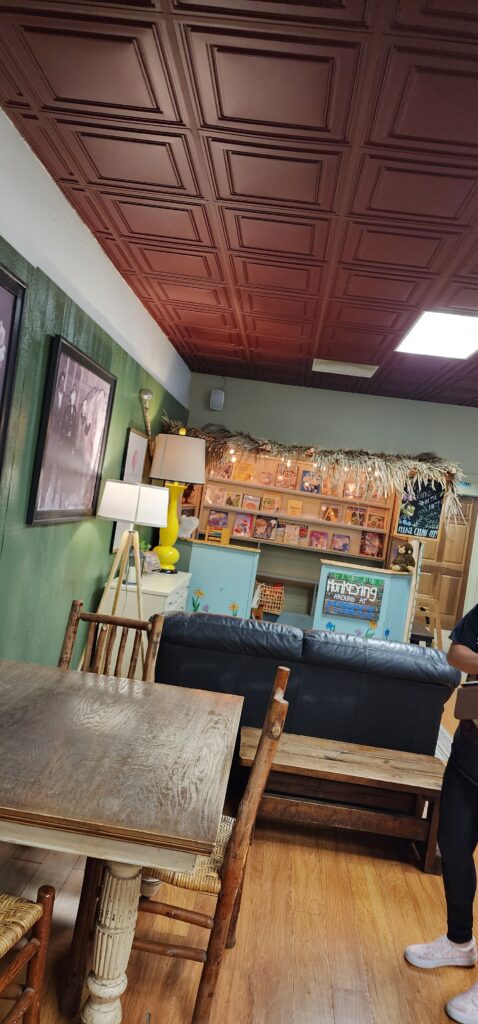 As we walked around drinking our Peanut Butter coffee, a gal sweeping the floor began conversing with me. She ask if we were just passing through the town and rather than explain the Grinder mess, I smiled and said yes. She then asked if we knew their store's history and the reason for all the circus memorabilia. She gave us a small slice of the history, but then I was captivated and had to know more. This sentence will no doubt date me, but as my favorite mentor Paul Harvey used to say: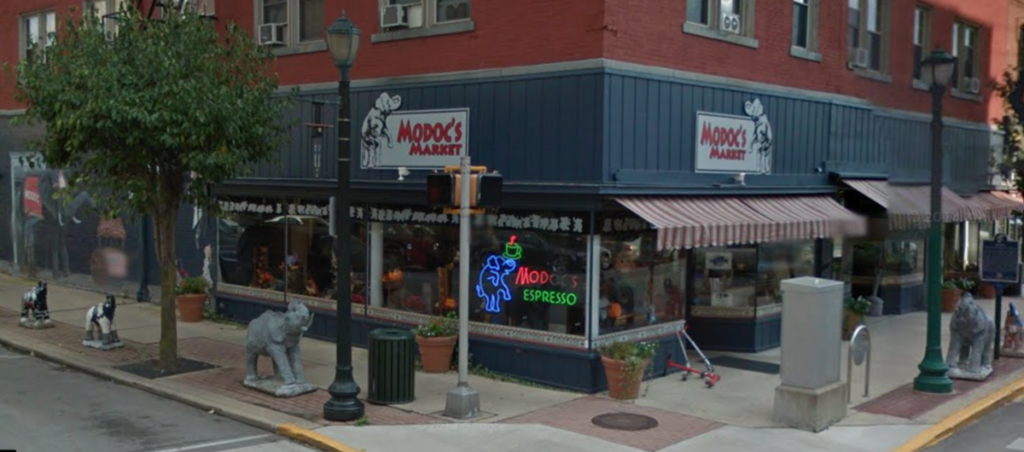 HERE IS THE REST OF THE STORY:
On November 11, 1942, the circus came to Wabash Indiana. They set up at the Wabash High School, and at the time the circus owners said this would be their last circus for a while as the war was on and workers and visitors were becoming too scarce to merit the moving and setting up, and hauling the animals.
There were three gray elephants known as Judy, Empress, and Modoc. The girls were all tethered outside the Wabash school before a performance of the GREAT AMERICAN CIRCUS was to begin. A couple of stray dogs began barking and jumping which spooked the elephants, which then caused 12-year-old MODOC, to bolt, and weighing 4,000 pounds she was able to bolt from her handlers and run.
Her first stop was a nearby garage, where she walked through the garage door opening and tore out a furnace and hot water pipes, and she made her own exit out the back of the building. Then she walked down Main Street where she spotted 48-year-old Mrs. Chauncey Kessler. She had just finished work for the day and was standing outside the news office, reading some of the bulletins in their window when she saw Modoc. At first, she thought she was seeing things, but then she remembered that the circus was in town. By the time she realized the elephant was real and on its own, it was uncomfortably close to her. She ducked into the Bradley Brothers Drug Store for cover.
The Elephant followed her into the store, and before she could take cover behind a counter, the animal knocked her down with her trunk and began rolling Mrs. Kessler between her front and back legs several times, before Modoc moved away from her because the smell of roasted peanuts grabbed her attention. The elephant pushed a solid marble soda fountain 12 feet off its base and smashed chairs and tables, while she made her way to the peanuts. She ate all of the roasted peanuts she could find, yet never touched a beautiful glass candy display standing by the end of the counter. Finally, using her trunk again, Modoc picked up Mrs. Kessler and then gently placed her back on the floor and nudged her out of the way with her foot. Then, she made her own exit through the back of the store, a door that was only 42 inches wide originally, was pushed much larger to accommodate Modoc's exit. Mrs. Kessler suffered a severe cut on her jaw, and forehead and multiple bruises up and down her body from being tossed between the 4000-pound elephant's legs.
For four days the elephant plodded through farm fields and crisscrossed through Wabash and Salamonie rivers several times. In an attempt to flee from Modoc, a farmer stumbled into her path.
Kenneth Kindley, a 38-year-old farmer of the community said he walked up towards the elephant intending to lead her out of the timber when she suddenly ran forward and knocked him down with her trunk. While he was on the ground, before he could get away from her Modoc then sat down on top of Kindley and rolled on him. He was carried out of the woods by five fellow farmers and taken immediately to the Huntington County Hospital. He had sustained a fracture of the neck at the base of the skull, was in critical condition, and was hemorrhaging from both of his ears. Paralysis then developed in both his arms and one leg and had a long severe gash on the back of his head.
For five days Modoc was on the lam and running around the county.
Her eventual capture took place in the thickets of a farm owned by Claude Kreig, 9 miles outside of Wabash. Over fifty adults and children spectators defied the orders of the local sheriff to remain behind barricades and secure safety lines. They climbed high up into the trees to watch Modoc as she passed below them.
At Claude Kreig's farm, one of her circus playmates, Judy was led into the woods where she finally let out a cry for Modoc to emerge. Modoc walked up to her friend, and they entwined trunks. Her trainer, Terrell Jacobs approached her with thirty loaves of bread. While Modoc enthusiastically ate them, Jacobs strapped and shackled her legs and then led her to a waiting truck, where she was given twenty more loaves of bread and 7 quarts of whiskey for medicinal purposes to better handle her.
It should be noted here that during her five-day adventure, Modoc lost 800 pounds. Jacobs later explained that while Modoc crossed two rivers, she may have been too afraid to stop and drink. Elephants require a huge quantity of water a day, and contrary to popular belief she couldn't have foraged enough food to meet her daily requirements.
For five days the local papers and many other surrounding states capitalized on the crazy elephant escape and capture. The Bradley Brothers drug store was repaired, and the name was changed to Modoc's. A mural of her antics grace the exterior of the building, and a historical "elephant" marker was placed to mark the event.
It should also be noted here, On March 25, 1945 The Logansport Indiana Newspaper printed several articles regarding the Modoc follow-up. Mrs. Chauncey Kessler was suing Terrell Jacobs for 10,000, and the farmer injured the worst, Kenneth Kindley was suing Jacobs for 25,000. 00 in damages.