NINA CAME HOME FOR A VISIT
Many years ago, around 1999, when our children were younger, and still going to school, we began to take in Exchange students from various countries. As time past, there were over fourteen different students that stayed in our home. Some we chose and some were dropped off here when the home they were staying in wasn't working out for whatever reasons.
Our home seemed to be the designated "safety" zone for any child. Not to mention that along with several exchange students we also had a house full of teens non-stop. We were blessed with three really great kids, that never gave us an ounce of trouble. Therefore, we made sure that our home was also the fun place, the food place, and the comfort place. It didn't take long for me to realize that I would not be able to save enough money to send ourr children to college. If they wanted to go, we would have to do loans, grants, scholarships, etc, as feeding that many teens on a regular basis took a lot of creativity on my part and money. We loved it. Those were some great times, and I wouldn't change any of them.
That being said, Nina came to us from Hamburg Germany. She was a very frail, looking 17 year old girl, and I remember when we picked her up at the airport I was deeply troubled by her weight. She smiled politely and her English was pretty good, but she didn't talk much, sort of stayed to herself for a few days. Back then, there were no cell phones or social media apps you could contact your family and friends a hundred times a day. I believe she spoke with her own mom 3 times while she was here, and she had one phone call from her Dad, and though we won't discuss that conversation, he devastated his only daughter that day, and she and I played hooky from school the following day together, in an attempt to mend her broken, bruised heart. We watched movies, ate lunch and snacks in front of the tv, and just spent the day together talking about life and its many aspects.
Nina, warmed up to our family fairly quickly and she became one of us. Just as the numerous other exchange students had done. She worked outside on the farm with us pitching hog manure, baleing hay, cleaning the yard, and she helped in the house when it was time to do laundry, dishes, or dinner. She and our two daughters, and our son, all got along well together, and they enjoyed cooking together. Below are some photos of Nina from 1999.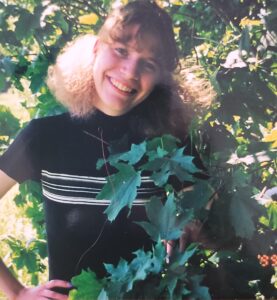 FAST FORWARD 23 YEARS:
On April 15, 2022 Nina made a visit back to Michigan, back to our farm and the family that loved her and missed her. When she left here twenty three years ago she was a teenager, the whole world bright and fresh and beautiful. She was bright and fresh, beautiful, full of life and ideas. When she drove into our driveway on friday evening close to 9 p.m. she sat in the car for a moment before she opened the door and got out of the rental. I was standing on the sidewalk looking in the window and shaking my head in disbelief. I knew the girl, still know the girl and her heart, but a woman who just turned 40 was sitting behind the steering wheel. Seemed so surreal. How had that many years passed by? She stood before, the same tall girl, just a little older, and worldly wise. She looked at me for a long moment then said "Mom. I can't believe it. 23 years. I just cant believe it". I said I know, and began to cry. It was a happy cry, a celebration, a reunion we never dreamed would happen.
Nina, spent seven days and eight nights here. Our children were all grown now with children of their own. For Nina, it seemed unreal that her host brothers and sisters had so many children, almost fully grown. Many things around the farm were the same to her and some things she picked up on right away, they would trigger her memory and she would laugh and share the discoveries with us. For instance, this old house was built in in 1880. The door knobs are 142 years old. They have a unique piece of metal that forms on the side of the knob. Its curved to fit your thumb just perfectly as you grasp the handle with your hand and you have to squeez it inward to release the old latch. She remembered that, and it made her laugh. She remembered all of us sharing one bathroom, remembered our typical friday nights with pizza and a VHS movie. She reminded me of quite a few things that I had forgotten also. With a farm to tend to a home to remodel and three kids of our own, there were alot of things that i had forgotten while I was busy doing whatever had to be done.
Nina, is a fabulous cook, and she can make dishes that look like they came straight out of a Rachel Ray magazine. She's had dinner parties back in Germany for several of her friends, when she has cooked all day and make a seven course meal. She eats very healthy, and enjoyed spices, onions, garlics, etc. She showed me photos of her many of her creations, and one included stripping down an octopus, cleaning its legs, and restuffing them with "something" and then deep frying them. She has been a skydiver for many years, well until about three years ago when the wind volocitity worked against her and caused her to land with her knees locked tearing all the ligaments surrounding her knees. That forced her to retire from skydiving and now she literally travels all over the world seeing sights, and hiking the mountain terrains of Sweden, Switzerland, France, South Africa, I cannot name all the places she has been. She is a very happy, satisfied "woman of independent means" with stories that could go on forever and are never boring.
We spent the week together cooking new dishes, shopping at the grocery store for things my cupboards have never seen in forty years of house keeping, and we had a surpise lunch invitation that we accepted and we all have a marvelous meal and visit. We went to a sporting goods store and while I pretended to hold a few articles of clothing that Nina wished to purchase while she looked for a specific light weight tent, i raced to the front of the store to buy the articles for her as a gift before she could tell me no. (Previously, we shopped at the super market together and before i made it to the pay machine, she shoved me aside and slide her silver mastercard before I could. We laughed and the cashier laughed, told us to enjoy our reunion/adventures together and try not to kill each other. We never ran out of things to talk about, I especially enjoyed hearing about Nina, the adult. The career woman, and the all the choices she has made that has landed her working for Johnson and Johnson in the eye department. She is a web designer, owns her own flat in Hamburg , Germany but her heart belongs strickly to Switzerland. The beauty of that place, the hills, the terrain, the trails, the solitude, it all calls to her soul.
We celebrated Easter while Nina was with us, and that was an enjoyable day also. She helped fill easter eggs for the 7 of our 12 grandchildren that were here for the meal, she helped hide the eggs and of course the day before there was an entire day of pie baking, where she was learned to "pinch a crust" just like my granddaughters have done over the years with me.
Also, because she is so good with computers, I had her look at mine, and when we and her genius brother figured out that Dell Inspirions all have the same issue it was determined by me that i should quickly go out and purchase a new laptop while she is still here and I can glean from her knowledge. I did buy a new laptop and I am happy to say that after 25 years I have made the switch from DELL to HP and I am elated.
Nina left here the following saturday morning, April 23, 2022 a little after 9 a.m. It was a difficult good bye we cried and hugged one another several times, and more than anything else I wanted to be sure she knew, that she heard me when I told her how proud of I was of her and the woman she has become, and I wanted her to know, to always believe how much she is loved here. She is a remarkable woman, and I am truly blessed to call her our adopted daughter and friend. Below are pictures from her trip here to the states.