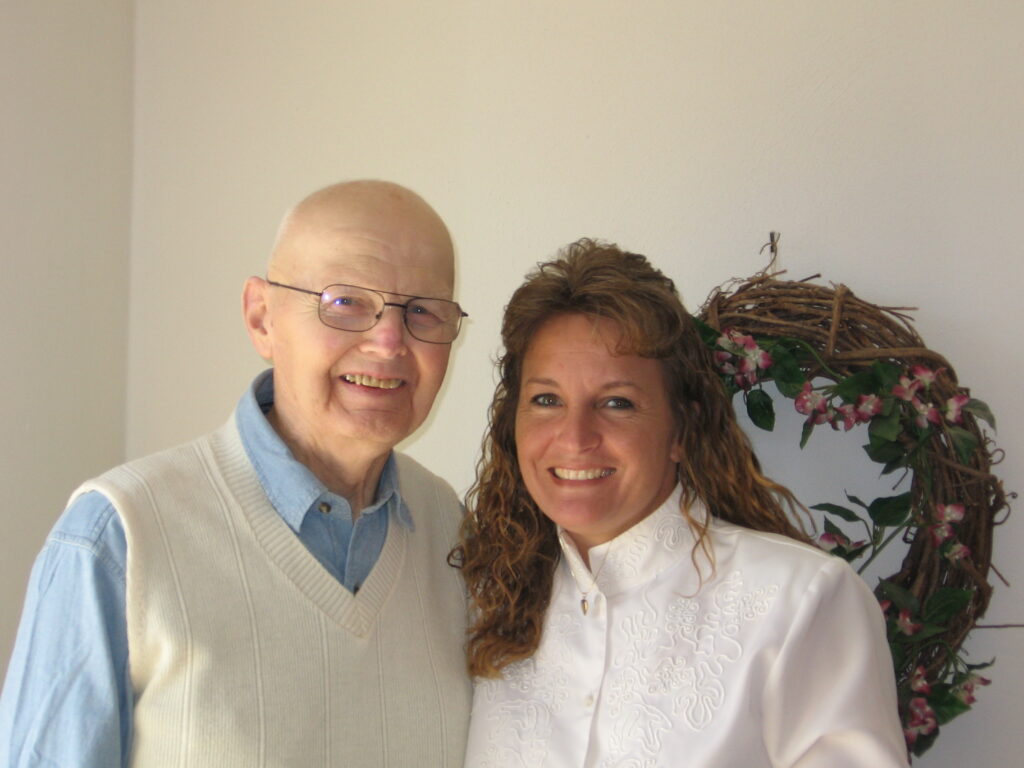 There are two basic fears in all of us. The first is rejection, and the second is a fear of dying, and thinking that during our brief stay in this world, those who we really love will never know who we were.
It's a crazy world we live in most days. Seems we are always in rush to get a multiple of things accomplished in the shortest amount of time. I am as guilty of this as the next person. As the years go by, we soon realize that everything is NOT made to last, and the truly beautiful things never do.
They come into our lives for a moment, for a day, for a season…if we are fortunate, for a few seasons. Then, they are gone and there is this vast emptiness that lays dormant in the bottom of our soul waiting like roses beneath the frozen snow. Then, hopefully, one day something sweet will happen, and the snow will begin to melt and the roses will come back to life again.
Once upon a time, long ago I knew a man, and he was a kind man, a loving man with a heart as large as the outdoors. A place he loved to be. If there was a selfish bone in his body, I never saw it. Never heard it. He was good to everyone he met, and those he didn't care for, he was good at keeping his darkened opinion of them to himself and shared them only with me. He also shared the great sadness of his life and for some reason he believed and told me in writing several times that he thought I saved him from taking a permanent solution to a few temporary problems.
I don't feel that he was necessarily correct, for I would say that it is the reverse. He reached out to a lonely, self-conscious momma of three small children, and fed my soul with his friendship. He saw me. Who I was on the inside, who I wanted to be, and when someone cares enough to really know you, you cling to their words, you hear every syllable they speak , or in my case, I clung to THE LETTERS.
I knew Burt from the time I was a wee child, and through the years, he had coffee at my parents' home and just about every home in the neighborhood, and pretty regularly. He was a lonely man. Everyone treated him well, but no one took the time to talk with him as a real friend and find out what his life was all about. To invest in him, listen to him and eventually allow him to speak candidly about his years on earth.
In the Spring of 1983, Burt and I began having coffee together at my home, maybe once a week. It not an intimate situation at all. I had three small babies all around my feet, two of my brothers were still in high school and I was a teacher and thesis writer by night, and I helped watch my older brothers 4 children while they worked. It was difficult some day to finish a whole sentence at my table. Still, Burt eyes would light up when he saw me, while we talked at the table, about his life, my life, the future of the world. He was always eager to hear anything i said, read anything I wrote, we shared a deep love for photography and always shared pictures. ( you know back when you actually had them printed off and wasn't just swiping through an album on a cell phone).
On a frigid October day, Burt stopped by in the pouring rain and my little girl told him I was around the back. I was, behind our old, broken down single wide trailer. (This trailer had no working windows, they had to be propped open with sticks in the summer and taped shut in the winter.) I was unhooking the gas line from an empty 100-pound cylinder of propane, and hooking it up to another full tank sitting beside it. I was just finishing up when he came around the corner and ask if I needed some help. I smiled and told him I think I had it. Then he followed me around while I relit the pilot for the water heater and back inside to relight the furnace and cook stove. All of this was standing operating procedure for me. We visited through an entire pot of coffee and then he left, like he always did.
A few days later, I received a card in the mail from Burt. He wrote about how much our coffee sessions meant to him and how he was just awe struck that I could go out and change my own propane tank and juggle kids…etc etc. I looked forward to him stopping for coffee each week, and if it rained, I knew he would be coming by and the visits would last longer than normal. There was nothing we didn't talk about, and there seemed to be nothing I could say that bored him or irritated him.
For the next 26 years, Burt sent me the sweetest cards and letters. There was never any real occasion, in fact now that I look back on it, I wonder if it wasn't a part of his healing to be able to write things out. There is nothing in these cards or letters that could have been detrimental for him or me. In 1994, he married his first High School girlfriend and ask me to work with him and buy his farm, as he didn't want it to go to any of the bigger farmers. He wanted someone who would love the place the way he did, and carry on the dream his parents began in 1936 when they bought the farm. For a dollar down, to bind the land contract…I bought a farm on Valentines Day.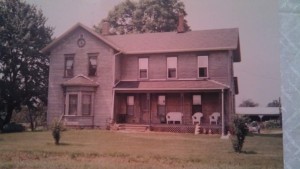 This is the farmhouse, after we cleaned it for 6 months. It hadn't been painted since 1960
The farmhouse as it stands today….27 years later, and lots of hard work,
Many changes came to the farm, and to the farmhouse, which was in dire need of repair. Seventy cats lived in this house, and there is no way to explain in this blog, the number of messes I cleaned up and carried out in multiple 5-gallon buckets. Not to mention I learned how to rip out subfloors and lathe and plaster just to rid this house of the strong cat stench. I learned to take out windows, put in new windows, hang drywall on walls and on ceiling with homemade T sticks and the help of 3 NOT SO HAPPY teenagers, I learned to do my own plumbing (thank God for PVC) I sided the house, built decks, and put an entire new roof on brand new 3 car garage alone, except for the last day when my teen son ask to stay home from school to help. It was late November and the roof needed to get on and get sealed by the sun. Thomas laid out the 3 and 1 shingles and I ran behind him fastening them down.
(Side note: I was on the roof for 2 days, when a man drove in my driveway, and ask me to come down off the roof, he wanted to talk to me about how I was shingling it. I had my old Eastwing hammer in my hand and I remember thinking "Dude, if you stopped here just to tell me how I am doing this all wrong, I am apt to plant this hammer aside your temple". I climbed off the roof, trying to reign in my irritation. And it's a good thing I did. The man, turned out to be a preacher/carpenter and he was down at my neighbors building a garage for them. He said he had heard me down here hammering for two days and wanted me to use his roofing nail gun. I thanked him but declined his offer. I had never used one and didn't want to mess it up. He insisted I used it, and unload from his truck with an entire box of nails. He said when I was done with it, to just leave it on my front porch and he would stop and pick it up.
I did use it, it made my job much faster, and when he did stop to pick up the nail gun, I gave him 200.00 for the use of it. He tried to decline the money, and I told him to give 10 percent to his church and use the rest for his kids for Christmas. Its just a sweet story, that goes along with the house…but I love that a stranger helped someone else without waiting or wanting the notoriety for it.)
After Burt married and moved an hours drive away, our coffee sessions weren't as prevalent as they once were. Still his letters would arrive in the mail. I had become like a child with his letters. If I retrieved one from the mailbox, I would race inside, and get all my household chores down, get laundry going, dinners prepared, and it was only then, that I would take 5 minutes to sit down open his letter with a cup of coffee and absorb its content. Most of them were now filled with stories of his new life, his new church, the men's group he had joined. Burt was always an emotional man; you could tug at his heartstrings easily. I like a man that is strong enough to cry now and then. It shows they are real, connected to their own hearts in a good way, and connect to others in a healthy way.
Now and then, I would receive a letter that would blow me away. Words from him about how he saw me, and all that I did, all that I was or was trying to be. He knew the wounds I carried, he understood the constant need and yearning I had to feel loved and accepted and treated decently.
There are a few of his hand written letters, that I have laminated. That may sound crazy to some, but if I live to be a ripe old age, I don't want the ink to fade, I want to be able to read the words he wrote to me. The words that live on, even though he is gone from this Earth. He told me I was his hero once. Imagine a man 36 years older than me, 36 years wiser, 36 years stronger and more accomplished, said I was his hero. Those are the letters that I still read today, to remind myself that sometimes ……..just sometimes……. there are people among us, that see us, and because of them and their generosity with words, we can SEE OURSELVES in a better light, and continue to grow in a good direction.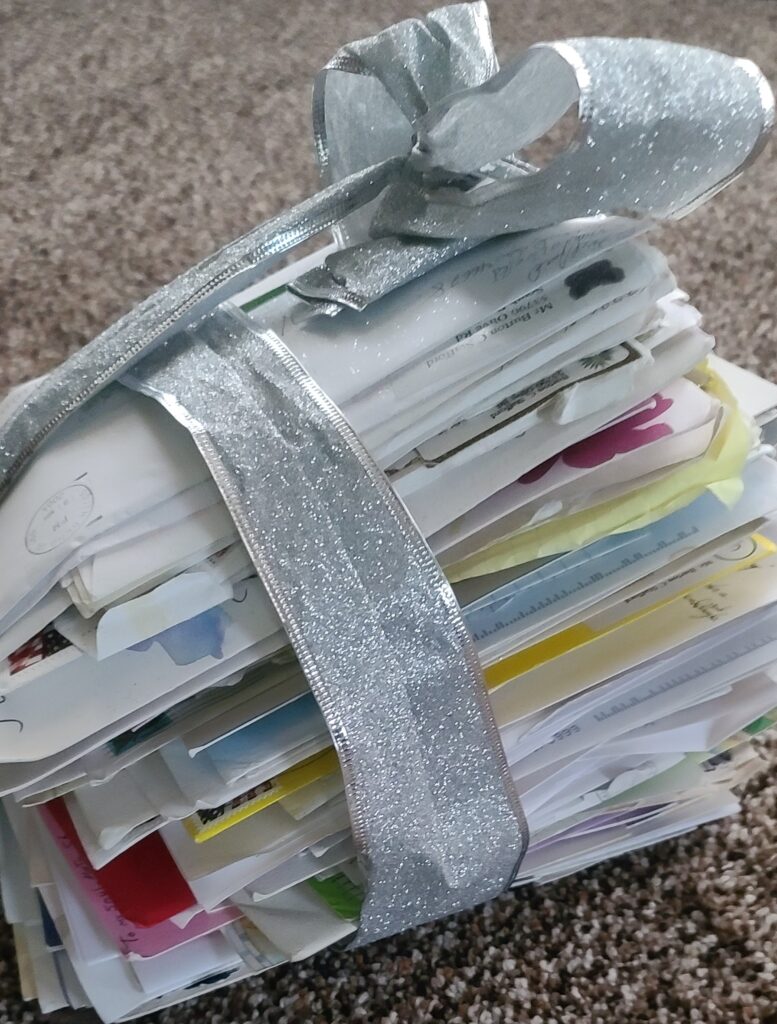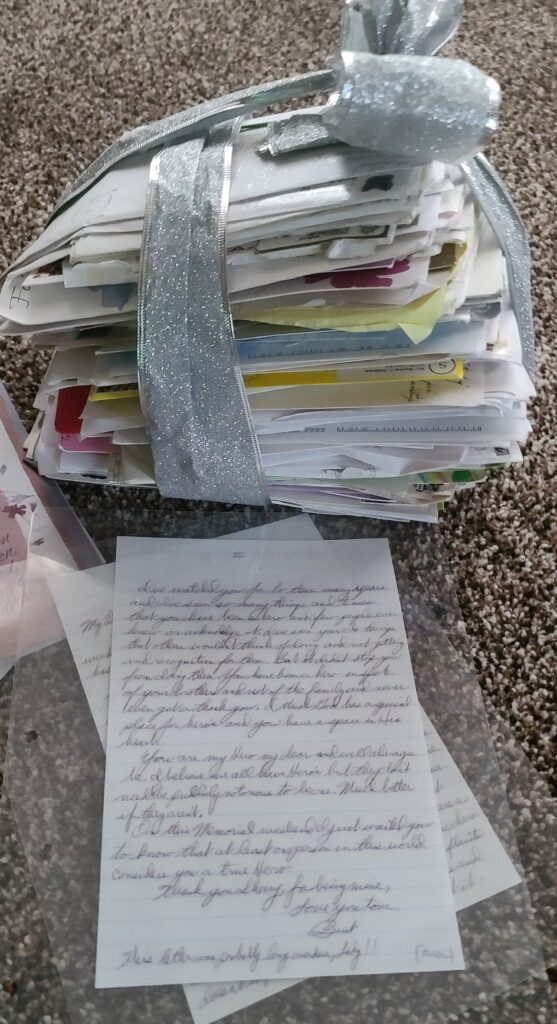 There is a song by Charley Pride, that remains in my head, and seems pretty fitting for this blog post.:
Through the years, I have often fallen, I've been every kind of fool a man could be, for I never could control the devil in my soul, but somehow you never did give up on me.
When I couldn't keep my word, I struck at you for anger for things I didn't need, when I couldn't neither break or bend, you were there to be my friend, and somehow you never did give up on me.
And I'm proud to know God gave me such a person, who had eyes to see the good somewhere in me, without you my life would only be a ruin….Thank God, you never did give up on me.
*******************************************************************************************************
I miss people communicating by rural mail. No one writes letters anymore, if they can't text it or type it, they don't do it. The kids of today, wont ever know that feeling or excitement of running to the mailbox and receiving a card or letter addressed to them.
This side of 100 years ago, letters were the only way to stay in touch with loved one. By the time you received news by way of mail it was old news but it was still good to receive it, and it could transport you out of your life for just a few moments and into theirs . The times they are a changing, and we must change along with it, or get left behind. For this writer, I am grateful for this stack of letters that I have, and for the days when I least expect it and I pick a book from my bookcase and find yet another small card or letter that I must have stuck there when it arrived back in the day. They are timeless. There is a song Charley Pride sang and the word remains in my head and seemed to fit this blog post.
Burt saw the good in me, when I didn't see it myself. He knew when there was too much silence between us, when he didn't hear from me, I was hiding out. Something was wrong, and I was dealing with it on my own. He told me once, that even though I put up this brave shield of strength, he knew it couldn't dodge the barbs and bullets of life as well as I hoped it would, and he was worried about me. He would love me always and forever. WHAT A GIFT HE WAS FOR ME, WHAT A GIFT HE LEFT FOR ME.
The opportunity to buy his farm, and give my children and grandchildren a beautiful place to live and grow would have been more than a person could ask for, but to have a friend of Burts caliber, and keep him till the end. Well, its really special. I spoke at his funeral, well I choked, and cried as I spoke at his funeral trying to do him justice, trying to do him proud…… but my closing line still holds true today.
Burton Chester Stafford was giant of a man who was STEEL BLUE AND BLADE STRAIGHT.