Our Dad has been playing guitar since He was 14. He comes from a musically inclined people. His Dads father played the Violin and His Granddad Fred played guitar. My Dad lost his own father when he was ten years old. A terrible loss for a child. .As He grew up, He was an honor student all through school, won Boys State and was among the top ten seniors for His graduating class of 1955.
He held multiple jobs after school and on weekends and helped his mom with the two smaller children as his 4 older siblings were already married or had moved out of the house. He bought the first television the family ever had, the first car, brought the "outhouse" inside. Added to an old shed that his Dad had built to make his moms kitchen larger. His parents had seven children, half were married and having babies so his Mom needed the space. By the time he was a junior in High School He had bought his first 40 acres of property just a stones throw up the road.
Merle is one of my Dads older brothers. In fact He was 15 years than my Dad. One day Merle was in search of some extra cash. Their Mom (Doris) told my Uncle Merle she would give him $5.00 for his old Silver tone guitar if he would show Jim one chord on it before he left that day. The deal was done, the dye was cast . From then on My dad would go visit with his GrandDad Riley (Doris' Dad… ) and he would teach my Dad how to listen for the changes in a song and taught him other many other chords. Time marched on.
Dad played that old Silvertone guitar for quite a few years. Then one day He bought himself a New Gibson Acoustic /Electric Guitar for $300.00 made in Kalamazoo Mich. He played it a few years, and around the age of 24 or 25 He talked to a man who was a well known guitar picker and singer in this area by the name of Lloyd Moore. Lloyd showed my Dad his Gretsch guitar and what a beautiful sound it made, played easy etc. Dad fell in love and had to have one of his own. He went to Kalamazoo and traded his brand new Gibson in on this used Black and White Duo-Jet Gretsch. They gave him 100.00 for his NEW Gibson and Dad financed another 200.00 on this USED Gretsch. He was elated.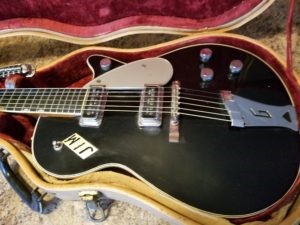 By 17 years old Dad was playing in country bands and most the time He played one or two nights a weekend and got paid for doing it.  That became the norm for Dad, and all the years we grew up He and mom were usually off to play music  every Friday and or Saturday night. Sometimes on a Sunday evening but those dates were rare. Today Dad is   80 years young as of this writing, and He still plays and sings beautifully. He is a very gifted man.
It would be difficult to come up with a total price for all that   Black and White Gretsch has  paid for over the years. It supported  our family,   helped stretch his weekly pay checks  so he could plant crops, trade tractors, buy groceries, school clothes, livestock, feed.  It was his PERMANENT second job that he LOVED.   He always said "playing a guitar was like  having an old friend just  waiting in the corner for you, and it could lighten up the darkest  days.                                             HE IS THE LEADER OF THE BAND
I am sure I heard his beautiful "Marty Robbins" voice the whole 9 months my mom carried me. As a toddler and up through the years until I moved out of my childhood home at 18, we four children could hear my Dad playing his guitar late into the night. It was no doubt the only time He had to spend with his "Beloved" guitar as He was a working man from 5 to 5 every day, and came home to farm the fields way past dark thirty every evening. Also in His "Spare time" He dabbled in taxidermy, a craft He picked up around the age of 15, and today has more ribbons and awards than He can display on his walls. It too, is a hobby that has served him Proud.
Our Dad wears many hats and unlike some, He has worn most of  them with much success.  I don't mean to make Him sound perfect.  As I know, no one is…however, I will confess that you will walk a LONG HARD MILE  however, I will confess that you will walk a LONG HARD MILE to find a man of such good character, honest and steadfast. His flaws, in any are few and far between.  He is just one of the last really great men.  An Icon.                                                               HE IS OUR FATHER, OUR DAD, OUR FRIEND, OUR LEADER
As young teens, us four kids would sit around the table in the old farmhouse and chat with Dad about school, work, etc and sooner or later He would ask "Hey have you kids heard that new song by George Strait or Alan Jackson, I need to learn it by Saturday night, people keep asking for it. And just like that our Kitchen table became a rehearsal stage. We would sit and tell him the words as He strummed and picked to get the tune down just right. He would glance in our direction every few moments for an approving nod that He had the tune right. This was a normal in our home.
As we sang with Dad, we each would listened to him so intently that we would mimic His exact way of singing. His exact way of putting a "marty robbins ending" to most country songs he sang, and we would try to elevate our voices at the same exact part in a song that he did. We would even toss our heads back or off to the side same way He did when he sang. Slowly it began to happen. We "kids" starting picking up Dads guitar and playing it during his absence. He didn't exactly endorse the idea, but He didn't rule it off limits either. Poor Man, He would reach for His Gretsch at the end of the day, or a rainy day to play it and it was ALWAYS out of tune from one of us hammering on it.
(Side note:)
The farm house He was raised in since May of 1946 , and was still living in, and all of us kids were raised in caught fire on January 12, 1985. It was a Saturday just about noon, and Dad was at National Guard Drill. I called the Armory to get a message to Him over the phone about the fire, that everyone was ok but ALL WAS GONE. To this day I cannot imagine what it must have been like for him to top the hill, almost home and look down and where His childhood home stood for years , the large farmhouse was completely gone, except for the chimney from a new fireplace he had built in 1976.
He took it all in stride. I remember watching Him walk around the smoking pile of ashes in his army clothes .  He looked over at his brother in law  and said  "Damn Dale, I think I'm going to have to pitch a tent".  He never cried about it, never yelled or cussed about it. It was done, it was finished,  no one was hurt, so we all moved forward .  
BEHIND OUR LEADER.
I learned a lot about life from my Dad, that is a given, all four of us kids did. Yet, this day , along with many other moments has remained etched in mind. We walked together up the road, to that same piece of property He bought in High School where now I lived with my little family in a old trailer. He and Mom, and three brothers would set up camp with us for the next 6 months. We had a small daughter and had just found out we were expecting another baby the day before the fire. It was tight living for sure, but it was enjoyable and made many a good memories. Dad continued to be more touched by the generosity of others, all the food, and clothes, and offers of money then the loss of his boyhood home. That kind of thoughtfulness filled his eyes with water that threatened to escape down his face. Still, He soldiered on in true JOHN WAYNE fashion.
There were a FEW THINGS, My younger brothers were able to salvage before the fire consumed the entire home. They pulled a mounted  Caribou and a mounted moose head from the walls of our living room, and grabbed 5 guitars and rushed out the front  door sitting them far away from the fire in a snow bank.  Dads Gretsch was one of the prized saves that day.                                     
OUR LEADER STILL HAD HIS GUITAR
Did I mention Dad was scheduled to play music that same cold January Night. He came home that afternoon in his army fatigues and it was literally all he had left . The fire had taken everything. Between noon and 6 p.m. there was an entire "tip out" in our 1972 New Moon Single wide trailer that was packed with clothes and food.
In true Redneck style, there was such an overflow of everything, Dads resourcefulness was still in tact, and we used the roof of our trailer for an additional refrigerator for months. Dad ensured us all that frozen milk would thaw quickly once it sat in the cereal bowl. LOL
Dad went to play that night in black pants that were too short, a white button shirt that was too big and cowboy boots that were too large for his size 8 foot and left him slipping and sliding on the snow and ice, but He played that night just as planned. He never whispered a word to anyone. I remember telling myself that evening as Dad drove off to play, If He never shed a tear over losing his childhood home, I would not cry over losing that same home from my own childhood. It was more his home than ours. He lost a lot of precious possessions in that fire. Some things that belonged to his Dad, things from his school days, a silver watch with diamonds where the numbers would be from a company that appreciated his dedication and dependability. Those things don't come back and yet still He continued to say "It was just a home and things , that family could not be replaced. We were fortunate".
Dad came home that night, and told us how Ann, the band leader had secretly passed the word about the fire and it being a total loss. After midnight while he was packing up his Gretsch, the amps etc Ann handed him an envelope full of cash . He was blown away and kept telling her that He didn't need it, He was insured and we would all be fine, to please give it back to the people. Of course She could not do that, and then the people who followed Dad and the band wherever they played began walking up to him and shaking his hand, offering campers, R V's more cash etc. "Whatever you need Jim, let us know" they all kept saying. He was shocked and so incredibly touched by these kinds of moments. The following morning we all sat at the table, drank coffee together as we usually did, and Dad retold the events of that evening.
I used to joke as a young teenager that Country Music ran through my veins before the blood did. As I married and had three children of my own they would often laugh at me when their friends were here as they said I could come with a song about anything. Our youngest girl would have friends over to spend the night and they would test me by saying " how about a song about this or that" and some old song would come rolling out of my head and mouth like butter.
I should also note here, that I am a WORDSMITH of sorts. I have been journaling for 42 years. I come from a long of writers, one being my great, great, Grandfather who kept a journal and wrote in it every single day during his years served in the great Civil War. It amazes me still today to read his writings. We pick up a pen and paper and take it so much for granted but over 154 years ago, paper was scarce and a pencil was a prized possession. He would pull his journal from its cold, wet, dirty, leather pouch and write the days happenings, tuck it back away safely and eat his few bits of rationed food or pick up his gun and fight or walk , whatever the orders were. I am still in awe of the man, James Riley.
Words have always captured my heart, songs are just poetry just set to music. I loved the stories and pictures a song could create in my mind. A song can describe so many feelings, and memories, and dreams. The words of a song can change lives, bring people together, heal a wound, and help you not feel so alone. Songs NEVER really die. The words and melodies live on long after we are gone.
Fast forward to today. I am a 55 year old mother of three grown Kids who grew up listening to me play an acoustic Ovation guitar. The older we get it seems like the more hectic our lives become and though I have toyed with the idea several times of buying myself an electric guitar I have never done so. Figuring that it would play harder, or I just didn't feel that something that extravagant was necessary for me. The acoustic was good enough.
We have 12 grandchildren all under the age of 12 and its like a BIG HAPPY CIRCUS whenever we are all together. The little children will see my guitars, ask me to play for them and then of course they want to play too. I let them pound or pluck the strings for a little while. They love to sing songs with me all the time…….but over the past decade I have allowed some unfavorable, non encouraging words to put a halt to my playing or singing in front of anyone. Except the grand babies or I generally play when there is no one else around.
This last September while I was running the combine picking soy beans I was listening to music with my headphones and it just occurred to me that I am not getting any younger. I had run out of excuses and decided I am done with living my only life around what others think or say. We only get ONE LIFE. So, I would buy myself that Gretsch that I have been wanting for 36 years.
I jumped on Ebay.  I realized that Les Paul and Guild, Gibson  are all great brands of guitars  but my mind was set on having  my own Gretsch.  A ceremonial passing of the torch so to speak.  Like  My Dad, the                
LEADER OF MY HEART.
Guitars like his are Vintage, and not affordable for a "FarmHER" like me of little means. I opted for a gretsch that wasn't vintage, but still affordable. I hunted for the better part of two months. Completed a ton of research as to the make and models, and how Gretsch even came to be. Thank God for Google. I can just educate myself all day from the convenience of my kitchen table while I drink untold cups of coffee.
Finally I found one. It was up for Auction, and it could possibly be affordable for this farmgal.  I did NOT bid. I waited and watched as the days closed in, the hours, and in the last fleeting seconds I posted a one time bid as high as I was financially able to go, I hit the "Confirm bid" button with 25 seconds left on the count down  and I watched the amount on that Gretsch rise and rise and the seconds counting down 5,4,3,2, and BAM……THE SOUND OF THE WINNING BID AND A LITTLE SIGN THAT SAID "YOU HAVE WON" FLASHED ACROSSED THE TOP OF MY PHONE.  I SCREAMED WITH DELIGHT AND EXCITMENT.  Our oldest daughter and grandbabies were here   at the time and they cheered right along with me though I know those little hearts didn't know why I was celebrating.    
DAUGHTER OF…….. THE LEADER OF THE BAND … finally has her own GRETSCH.
My three brothers and I had the greatest privilege growing up. We were able to watch the day by day growth of another kind of legend. Fashioned by years of hard work, honesty, integrity, good humor most of the time, unfailing patience , understanding and love. The quiet LIVING LEGEND of our Father James Arthur Haas . He is one of the few GOOD GUYS left in this world gone crazy.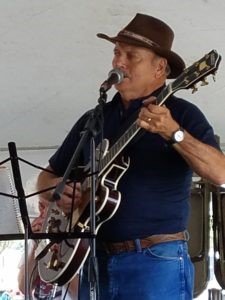 This is Dad Playing his Newer Gretsch in 2017. The vintage Duo Jet has been  safely  retired.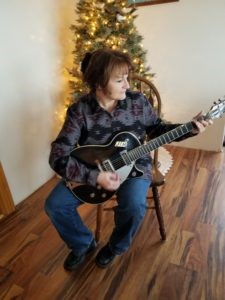 This is me, playing with Dads Vintage Duo Jet Gretsch 2017
My 125th Anniversary Edition arrived Just before Christmas. 2017 My young Grandson who is only 4 took the pictures of me opening it and playing it for the first time…Good Job Drew!!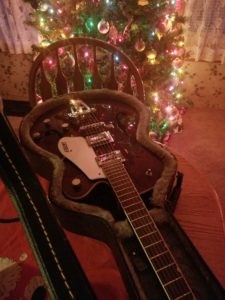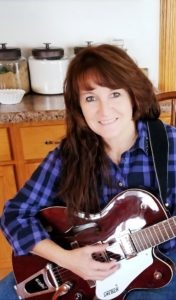 My Dad, playing  My Gretsch, what a beautiful, priceless picture this is for me.    I will treasure it always. ..He kept saying "its a nice  guitar, great sound, I like it".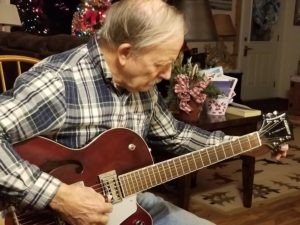 There is a song called the LEADER OF THE BAND.  By Dan Fogelberg.
My brothers and I cannot hear it that we do not think of our Dad….(parts of the song) the words are as follows:
An only child alone and wild, a cabinet makers son, his hands were meant for different work an his heart was known to none. He left his home and and went his lone and solitary way, but he gave to me a gift I know I never can repay.
A quiet man of music, denied a simpler fate, He tried to be a solider once, and his music had to wait, He earned his love through discipline, a thundering velvet hand. His gentle means of sculpting souls took me years to understand.
CHORUS:
The Leader of the band is tired, and his eyes are growing older, but his blood runs through my instrument and his song is in my soul, My life has been a poor attempt to imitate the man, I'm just the living legacy to the Leader of the Band.
My Brothers lives were different, for they heard another call. One went to Chicago and the other to St. Paul. And I'm in Colorado, when I'm not in some hotel, Living out this life I choose and come to know so well.
I thank you for your music, and your stories of the road, I thankyou for the freedom when it came my time to go. I thank you for your kindess and the times when you got tough, And PAPA I don't think I said I love you near enough.
The Leader of the Band is tired and His eyes are growing old, but his blood runs through my instrument and his songs are in my soul, My life has been a poor attempt to imitate the man…..I JUST the living legacy to the leader of the band.
WE ARE THE LIVING LEGACY TO THE LEADER OF THE BAND